Manufacturing BI Application Forum Successfully Closed in Wuhan
December 23 2013, Wuhan—e-works Wuhan CIO Club held Manufacturing BI Application Forum presenting BI application experience in YOFC (Yangtze Optical Fibre and Cable Company Ltd).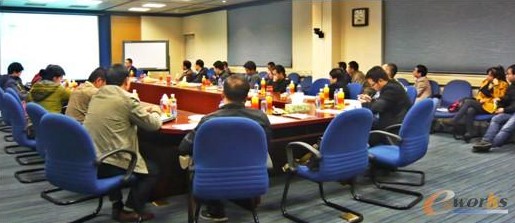 The purpose of the forum is to help enterprises collect and analyze various business information, operation data, and industry data, so as to disclose the bottleneck of long-term development and solve the issue. It can help enhance the analysis and decision ability in the enterprise. e-works provides a platform for CIOs in Wuhan to learn how YOFC is using BI technology to improve their business performance. CIOs from following companies attended the forum: China Railway Siyuan Survey and Design Group, China Sanjiang Space Group, CSR Yangtze Co., Ltd, Dongfeng Passenger Vehicle Company, Dongfeng Hongtai Holding Group, Dongfeng Peugeot-Citroen Automobile, Wuhan Fingu Electronic Technology Co., Ltd, China Changjiang National Shipping (Group) Corporation, Grand Pharma (China) Co., Ltd, Tri-ring Group, Kingdream Public Limited Company, Lingyun Science& Technology Group, Mayinglong Pharm, Hubei Huitong Industry& Trade Group, Beiersdorf Hair Care, Longan Group, and TENWOW Group.
Manufacturing enterprises are overwhelmed by data explosion. Market patterns and competition environments are changing across the world. In addition, widespread e-commerce and social and mobile applications diversify manufacturing enterprises' operation environment. Chinese manufacturing enterprises are working on exploring and improving research and development systems, manufacturing, sales and supply chain systems. With the help of many information systems like ERP, PLM, SCM, CRM, HRM etc, Chinese manufacturing enterprises are elevating their core competiveness.
YOFC is a leader in optical communication industry with annual sales revenue of 7 billion yuan. Thinking highly of information construction, YOFC applied ERP and SCM systems and combined the systems with stereoscopic warehouse and visualization technology. The IT systems yield good results and provide strong support for long-term development. In those systems, YOFC implemented BI system and integrated with ERP system seamlessly. Through combining with in-memory technology, YOFC's BI system realized mobile BI analysis and have good effects. Mr. Yufeng Zha, IT and Process Innovation Department Manager of YOFC introduced their IT journey, overall planning and architecture, and application effects in which he mainly introduced effects of BI application.
YOFC uses QlickTech's BI solution. QlickTech general agent in China, eBI Strategy General Manager Mr. James Deng and Solution Director Mr. Josh Dai also come to elaborate their understanding of BI market and introduce BI technology and features of QlickView.
Manufacturing BI is one of the hottest applications in Chinese manufacturing enterprises. This forum is of guiding significance for their BI selection and implementation.