The 2012 China Manufacturing SCM Summit Successfully Held
On September 21 2012, the fourth China Manufacturing Supply Chain Management Summit was successfully held in Shanghai. As one of the most well-known and authoritative summit in the field, it attracted nearly 300 CIOs and supply chain managers to attend the meeting. Speakers from IT software companies and large manufacturing enterprises delivered speeches around the theme "creating a complete manufacturing supply chain".

Attendees of China Manufacturing SCM Summit
Dr. Pei Huang, editor-in-chief of e-works addressed the conference and made a speech on "Chinese manufacturing transformation and IT application in supply chain management". He shared the new trend in Chinese manufacturing and IT application of supply chain management, implementation strategy, and upgrading and transformation.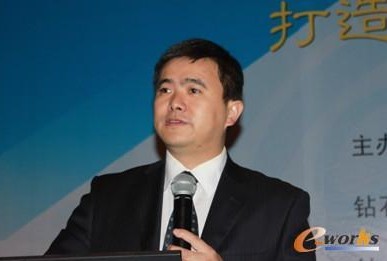 Dr. Pei Huang, editor-in-chief of e-works
IT software vendors from domestic and abroad shared their solutions against challenges and difficulties in supply chain management and successful stories were given to show professional supply chain management solutions.
Mr. Junqiang Xiao, JDA's Service Director of Greater China delivered a speech focused on JDA's supply chain management practices. From the view point of real case, he analyzed how to build a differentiated supply chain under a complicated environment and to be a leader in the industry.

Mr. Junqiang Xiao, JDA's Service Director of Greater China
Mr. Ning Liang, an expert from IBM focusing on strategic purchasing management, supplier lifecycle management, and enterprise contract management delivered a speech on "the new frontier of supplier lifecycle management: strategic supplier management". He explicitly illustrated the supplier management from the perspective of supplier lifecycle management, supplier assessment, hierarchy management, and risk management etc. Supplier management is an important link in strategic purchasing.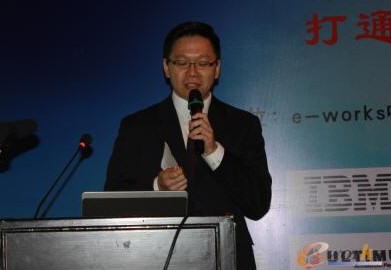 Mr. Ning Liang, an expert from IBM
Mr. Weisong Deng, General Manager of Ruijie Networks focused on building optimized networks in creating complete supply chain in manufacturing enterprises.

Mr. Weisong Deng from Ruijie Networks
Mr. Jia Yu, a Senior Technical Consultant from SEEBURGER expressed in his speech "seamless integration of enterprise supply chain" that manufacturing enterprises' supply chain is facing challenge and the problems like inefficient communication between enterprises should be solved by standardized collaborative commerce.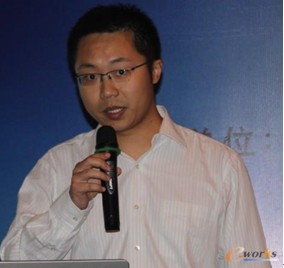 Mr. Jia Yu from SEEBURGER
Mr. Jinhong Zhou, Supply Chain Solutions Director of SAP Greater China analyzed in depth the development trend of manufacturing IT application and innovation and transformation. He specifically illustrated the landing of supply chain management solutions from the aspect of fast synchronization of demand and supply, excellent execution, end-to-end visualization and collaboration, and sustained development of supply chain.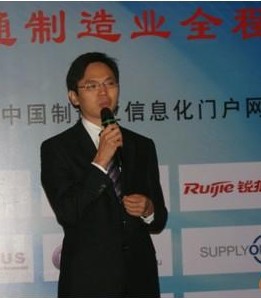 Mr. Jinhong Zhou from SAP Greater China
Senior management teams from Ultimus, BenQ Guru, SupplyOn also shared their SCM solutions.
Some successful cases were also invited in this summit including home appliances company FOTILE, Shanghai Volkswagen, and A.O. Smith to share their IT application experience. China Manufacturing SCM Summit has always been an effective communication platform for those attended manufacturing companies. The summit was ended in hot discussions like what basic requirements manufacturing enterprises need in applying SCM systems and how to plan SCM roadmap etc.