e-works successfully organized the 7th Industry 4.0 delegation to Germany
October 23rd 2017, Wuhan--Chinese Digital Enterprise Portal e-works has successfully organized the 7th Industry 4.0 delegation to Germany.
The delegation members together visited 11 industrial manufacturing companies and software companies, which are EOS, Dassault Systemes Munich Office, CADENAS, KUKA, Tebis, TRUMPF, Bosch, Rittal Innovation Center, BECKHOFF, Phoenix Contact, and Smart Factory OWL.

Group photo of 7th Industry 4.0 delegation to Germany
4 big highlights of this delegation to Germany:
1. Mr. Peigen Li to be the head of delegation, assuring the depth and high quality
Mr. Peigen Li, the President of Chinese Mechanical Engineering Society and manufacturing expert acted as the head of the delegation, and Dr. Pei Huang, as the secretary and translator. Mr. Peigen Li pointed out that Chinese manufacturers should be cautious about the advocation of machine replaces man, instead he suggested them to value smart manufacturing enabling technologies. He said that Chinese industrial enterprises should combine industrial robots with machine vision technology and promote application level of industrial robots.

Mr. Peigen Li at Bosch Industry 4.0 Lab
2. Visiting top industrial software company to learn global advanced technologies
Dassault Systemes Munich Office demonstrated five scenes including virtual reality, augmented reality application, and 3D Lean, an interactive task assignment platform.

Mr. Georg Kraft, Dassault Systemes Senior Director of Business Experience introducing 3D Experience
CADENAS, a global leading product catalog platform vendor, has 700 product catalogs in areas of shipbuilding, engineering, production technology, electrical engineering, plant engineering, and architecture/BIM. One advantage of CADENAS catalog is that it can embedded three-dimension feature search in nearly all the CAD software, which can realize the reuse of the model and design.

Visiting CADENAS
Tebis, enjoying a reputation of 'Benz of CAM', provides comprehensive solutions of CAD/CAM, NC simulation, data management and collecting. Tebis customers include many global leading automotive and aerospace companies. The delegation visited their headquarter and laboratory and amazed by their high quality and efficiency of their machining technology.

NC machining sample presented at Tebis lab
Beckhoff is a global industrial automatic control solution provider. The EtherCAT, an open and realtime Ethernet network communication protocol, developed by Beckhoff has been a recommended national standard GB GB/T31230 in China. EtherCAT has over 5,000 company members, including 700 in China. The visiting in Beckhoff made delegation members struck that first class companies don't make products, but standards.

Mr. Peigen Li and Mr. Gerd Hoppe, Beckhoff Management Executive
3. Companies covers from hidden champion to industry benchmark
Global electric industry hidden champion Phoenix Contact actively made Industry 4.0 practices in recent years. With 600,000 products in device connectors, industrial components and electronics, Phoenix Contact also provides industry management and automation solutions for customers to ensure their long-term success. In order to usher in the Industry 4.0, Phoenix Contact also started to tapping into some emerging areas like digitalization and build new business models.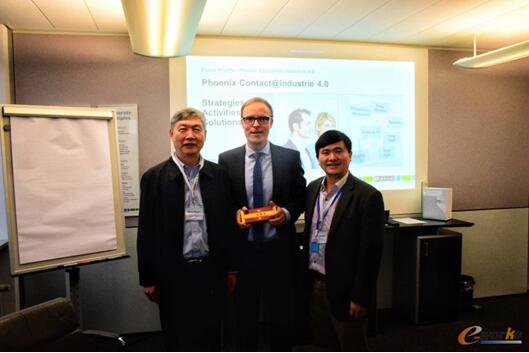 Mr. Peigen Li, Dr. Pei Huang, and Mr. Jorg Nolte (Middle)
Founded in 1989, global rapid manufacturing leader EOS provides end-to-end solutions for addictive manufacturing from part design and data generation to part building and post-processing. What EOS advocated is that addictive manufacturing is not going to replace traditional manufacturing but a complementation to it.

EOS addictive manufacturing equipment
KUKA is a worldwide leading industrial robotics device and technology vendor with over a hundred years' history. Based in Germany, it's also a pioneer in Industry 4.0 practices. Besides robotic systems, KUKA extends its business to processing machine, production equipment and maneuverable equipment. Having been acquired by Chinese household appliance company Midea Group in January 2017, KUKA still maintains independent operation.

Group photo before the KUKA office block
e-works delegation members appreciated the high efficiency of TRUMPF's laser cutting machine, sheet stamping and bending machines and watched their machining, assembly and testing workshop. TRUMPF is the world largest laser equipment manufacturing with 12,000 employees and 71 branches worldwide. It offers wide range of manufacturing solutions in the fields of machine tools, laser technology, and electronics. The combination of punching and punch laser cutting with storage systems aroused great interests among the members.

A TRUPMF worker is demonstrating bending parts
4. A glance of Industry 4.0 through visiting leading research institute
At Bosch Industry 4.0 Laboratory, the delegation found that Bosch as an Industry 4.0 practitioner is promoting its IT shopfloor solution and APAS (Automated Production Assistant), which can realize human machine cooperation.

Robot APAS
The delegation also visited Rittal Innovation Center which is a joint innovation center with EPLAN. Rittal is a global leading brand in the field of electronic control cabinet, and leading vendor in cabinet system and technologies. EPLAN is a leader in electrical design software. The engineer showed how to use four different EPLAN solutions to design a Rittal electronic cabinet, including its wiring and air conditioner.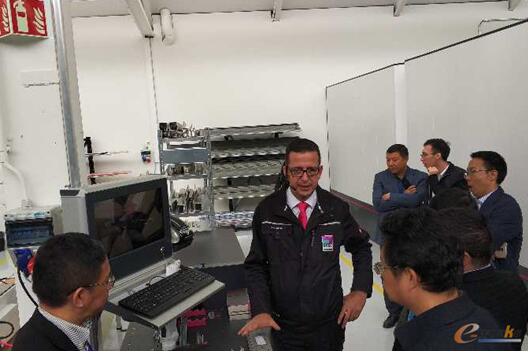 Rittal expert is introducing their technology
The last stop is Smart Factory OWL, a cutting-edge laboratory that focusing on information and communication technology applied in smart factory. It is jointly built by Fraunhofer IOSB and Hochschule OWL and opened in April 2016. it's OWL (Intelligent Technical Systems OstWestfalenLippe) is a leading-edge cluster and an important Industry 4.0 program. By implementing 46 research projects worth a total of around EUR 100 million, it's OWL also delivers concrete products, technologies and solutions for using intelligent technical systems in industrial applications. The aim is to develop modules to make the idea of Industry 4.0 a reality.

Visiting Smart Factory OWL
The eleven tours covered industrial companies, software vendors, and labs and research institutes, which helped delegation members understand Industry 4.0 from different perspectives. The well organized trip also won members' high praise. In November and December 2017, e-works will organize delegations to the US and Japan respectively. We will update the news or you can join us to have a wonderful experience.