2017 Shenzhen Smart Factory Summit successfully hosted
April 7 2017, Shenzhen—Chinese Digital Enterprise Portal e-works successfully hosted the 2017 Shenzhen Smart Factory Summit at Shenzhen Lvgem Hotel.
Nearly 300 participants attended the event, including smart manufacturing experts, manufacturer experts, international and domestic mainstream software vendors, and manufacturing representatives.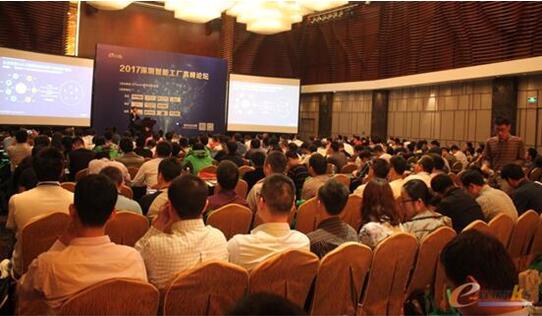 2017 Shenzhen Smart Factory Summit
Dr. Pei Huang, e-works CEO gave a speech on Connotation and Promotion Strategy of Smart Manufacturing. Dr. Huang believes that the goal of smart manufacturing is the intelligence of manufacturing value chain to improve product competence and quality. It is the further advance of deep integration. Manufactures have to be reasonable and practical in selecting and implementing solutions based on their status quo.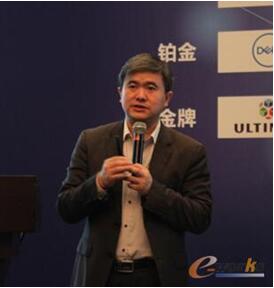 Dr. Pei Huang, e-works CEO
Mr. Qiang Liu, Vice President of Mechanical Institute, Guangdong University of Technology shared their custom design experience on hollow glass smart workshop. For implementing smart manufacturing system, Mr. Liu suggested that don't implement automation system on laggard processes, don't implement IT system on laggard management, don't try intelligence on basis without network and digitization.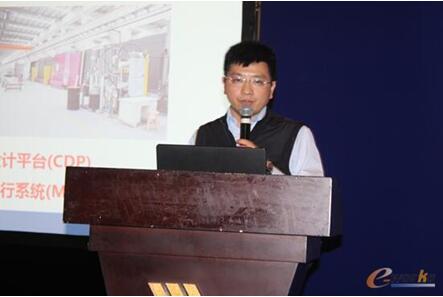 Mr. Qiang Liu, Vice President of Mechanical Institute, GDUT
Several manufacturers shared their successful experience of implementing and building smart factory. Mr. Pujiang Huang, CIO of Shenzhen Shidean Legrand Electronic Products Company shared the experience of lean workshop management. Shidean Legrand has successfully addressed the issues of production process invisibility, weak feedback, delayed field data collection, lack of equipment status monitoring, and slow response of production abnormity through proper information system application. Mr. Jian Song, Director of Smart Manufacturing Engineering Center, GSK CNC Equipment Company shared their industrial robots and application in labor-intensive industry. Mr. He Huang, Vice President of Dongguan JANUS Precision Components Company introduced that through promoting smart manufacturing and building smart factory, JANUS has realized productivity up 20%, operation costs down 20%, R&D cycle cut down 30%, defective products rate down 30%, and energy utilization up 15%. Mr. Anyuan Yuan, Intelligent System Business Director, Borch Machinery Company shared their achievements on promoting intelligence and three strategic products that help customers to realize smart factory.


From left to right: Mr. Pujiang Huang, Mr. Jian Song, Mr. He Huang, and Mr. Anyuan Yuan
There are many software vendors came to introduce their latest products and solutions, including EpicHust, Xiaoshouyi, Covisint, JUQENT, DELL, HIKVISION, and SKT.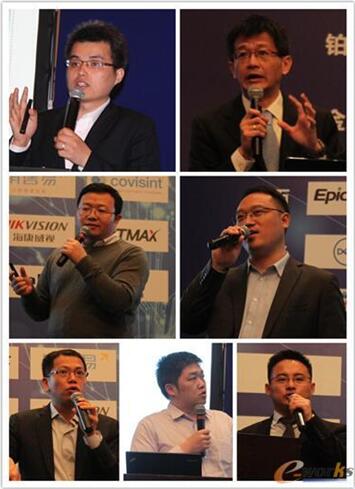 Vendor speech
In panel discussion session, guests discussed about issues of smart factory road map, integration, and application of IoT.

Panel discussion
During the break, audiences came to booth to discuss face to face with vendors about their smart technologies and solutions. In final e-works salon and Q&A session, guests answered various questions about building and advancing smart factories and provided audiences with valuable experience.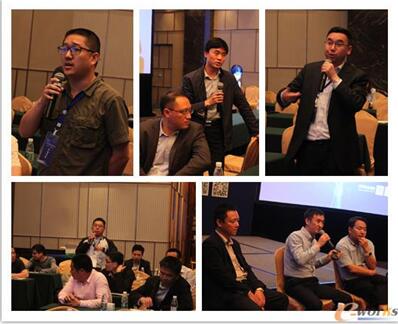 e-works Salon
The event came to a great success. Manufacturers got ideas and references through the introduction of smart manufacturing key technologies, successful cases, and solutions. China is undertaking transformation and upgrading in manufacturing industry, the correct understanding and application of smart technology will facilitate the building of smart factory.
More information about this event, please visit:
http://m.e-works.net.cn/report/2017shenzhSP/2017shenzhSP.html