2013 Qingdao Manufacturing CIO Salon Successfully Held
July 25 2013, Qingdao—e-works, Chinese Manufacturing IT application portal announced that 2013 Qingdao Manufacturing CIO Salon was successfully closed in Qingdao. More than 80 manufacturers' CIOs from machinery/equipment, automotive, hi-tech electronics, bio-pharmaceutical, and textile & apparel industries attended the Salon.
They are from Kerry Oils and Grains, Haier, Qingdao Textile Machinery, Qingdao CIMC, FAW Jiefang Automotive, China CNR, GM Wuling, Hisense Group, Double Star Group, Tsingtao Beer, and Luhua Group etc. They discussed their IT application status in their enterprises and communicated their career development and IT team building together.
Dr. Pei Huang delivered a keynote speech on CIO's Responsibilities in Chinese Manufacturing Transformation and Upgrading. In the speech, Dr. Huang pointed out that the responsibilities of CIOs should be leading IT application in enterprises and promoting transformation and upgrading to prosper Chinese industry.

Dr. Pei Huang, e-works CEO
CIOs from different industries shared their IT construction experience. Mr. Yi Wang, CIO of Kerry Oils and Grains talked about how to increase factory IT value under an intensive operation. Ms. Jie Guo, Process and Innovation Dept Manager of Haier Group shared Haier's channel management revolution. Ms. Kezhong Yi, CIO of Qingdao Textile Machinery shared their IT construction and management experience. Mr. Feng Geng, CIO of Qingdao CIMC discussed about CIO communication methods and strategies.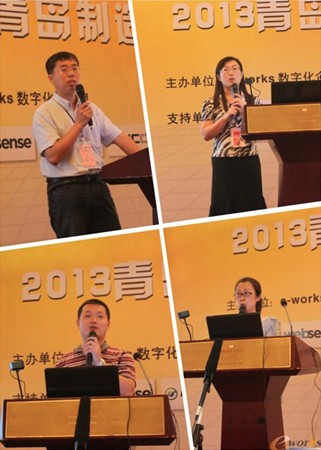 Enterprise CIOs
Excellent vendors also brought their solutions. They are Mr. Lin Liu from Websense, Mr. Jianbo Zhou from EWININFO, Mr. Miao Wang from Epicor, Zhaohong Liu from Infor, Mr. Hongbo Zhuang from BenQ Guru, and Mr. Hua Zhang from Authine.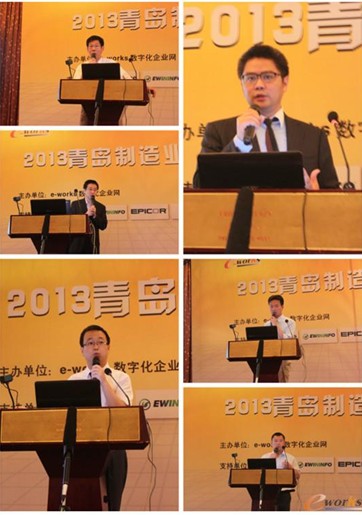 IT Vendors
e-works Consulting Director Wei Du gave his professional suggestions and strategies on difficulties of manufacturing IT deepening applications. e-works Service Director Yanfen Jiang introduced e-works membership services.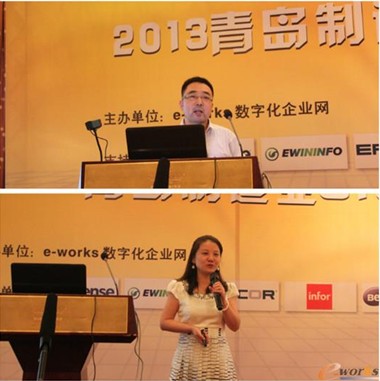 e-works Consulting Director Wei Du(up) and e-works Service Director Yanfen Jiang(down)
The 2013 Qingdao Manufacturing Salon provides local enterprises' CIOs opportunities for communication, networking, and understanding of integration of industrialization with IT application. They think that the salon is very helpful for their work.
e-works CIO Club will hold CIO Salons in Shenzhen, Suzhou, and Hefei.