2013 Chinese Manufacturing Information Management Forum Successfully Held
July 12 2013, Changsha—e-works, IT application portal of Chinese manufacturing announced that 2013 Chinese Manufacturing Information Management Forum successfully closed in Changsha. Based on the theme of "making complex simple, improving management efficiency", more than 400 people from 30 industries like machinery, electronics, light industry, automobile and motor industry, home appliance etc. attended the Forum.
Dr. Pei Huang, e-works CEO addressed the Forum. In his speech of "Chinese Manufacturing Transformation and Information Management Application Analysis", Dr. Huang started from the seven powers that influencing the global manufacturing transformation and described the Chinese manufacturing development trend and its latest trend. Dr. Huang pointed out that Chinese enterprise information management should focus on eight areas: MES, BPM, PM, WFM, BI and BPM, SCM, control& management, and energy management.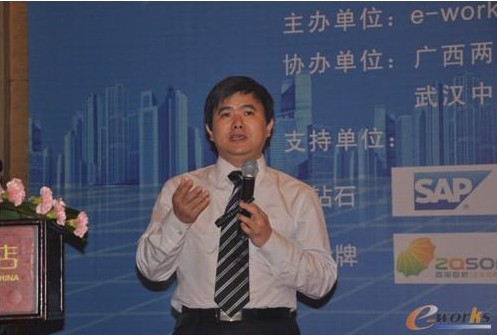 Dr. Pei Huang, CEO of e-works
In sub-forums, information management vendors brought their latest technologies, solutions, and successful cases. They are Mr. Gang Sun from SAP, Mr. Songquan Li from IBM, Mr. Bo Wan from EWININFO, Mr. Fuhua Han from Actionsoft, Mr. Qiang Xia from Epicor, Mr. Kedong Su from Safe-Code, Mr. Hongbo Zhuang, and Mr. Mixiang Wu from EISOO.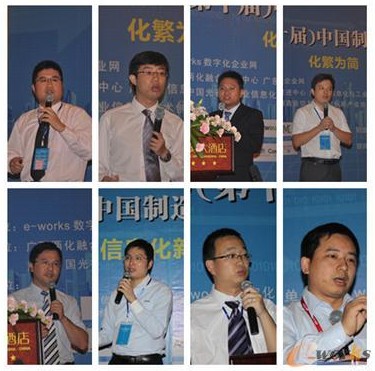 Information management vendors
Besides, CIOs from manufacturing enterprises also shared their application practice experience, including Mr. Zhizhong Zhou from Changsha ZOOMLION, Mr. Yanyan Chen from Hunan Valin Group, Mr. Xingguo Li from Changde Tobacco Machinery, Mr. Zhijun Zhou from Sany, and Mr. Wangkang Fan from JAC Xingrui Chilun.

CIOs sharing application exprience
Roundtable discussion topics are surrounded by "information management supports enterprise innovation", "how to realize ERP deepening application", and "how to build digital enterprises". After the roundtable discussion, salons are held. Attended manufacturers are divided into three salons according to their industries, which are automotive/transportation salon, electro-mechanics/process manufacturing salon, and electronics/electrical equipment salon. They discussed IT strategies under industry economy and industry information application features and trends.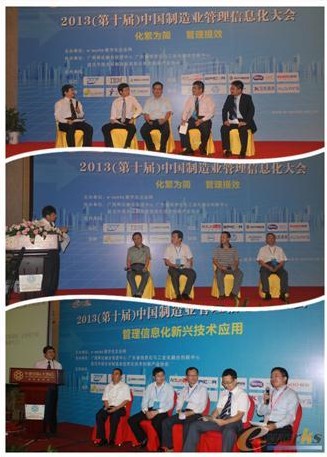 Roundtable Discussion
The Forum closed successfully. Based on the theme of "making complex simple, improving management efficiency", the forum fully described the information management status in China, analyzed difficulties and challenges in selection and implementation. The aim is to comprehensively promote the application of management information technologies in China.
e-works has successfully held ten annual manufacturing management forums since 2004. Now it has been the most authoritative and influential conference in the industry around China and has been highly recognized by CIOs and IT managers.