2018 Smart Manufacturing Forum successfully closed
September 6-7, 2018, sponsored by the Ministry of Commerce, Hubei Provincial People's Government, and Wuhan Municipal People's Government, 2018 Smart Manufacturing Forum was successfully closed at Intercontinental Wuhan.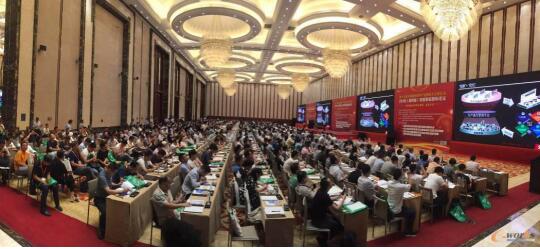 Focusing on the theme of Way to the the smart transformation of Chinese manufacturing, this event was extended to two days the first time and was extremely popular. More than 1,500 guests attended the forum, and 6,000 spectators watched the live broadcast online. The guest's speech covers many aspects of the intelligent manufacturing field, like smart factory, intelligent equipment, industrial big data, Internet of Things, artificial intelligence and other fields. Experts interpreted intelligent manufacturing from multiple perspectives to fully understand the development and applications of intelligent manufacturing.
Mr. Peigen Li, Fellow of Chinese Academy of Engineering highlighted several enabling technologies of intelligent manufacturing, including modeling and simulation, smart design, Internet of Things, intelligent machines, big data, and Industrial Internet platform and AI, in a keynote speech entitled "Several Enabling Technologies of Intelligent Manufacturing". He also illustrated the outstanding value of these technologies for supporting intelligent manufacturing practices through typical cases.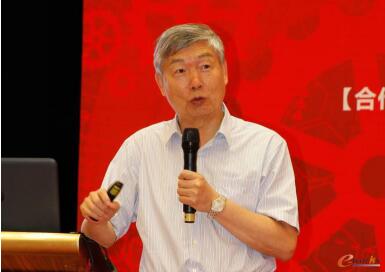 Mr. Peigen Li, Fellow of Chinese Academy of Engineering
Dr. Pei Huang , e-works CEO, sorted out different concepts of smart manufacturing. Dr. Huang believes that Chinese enterprises are facing with many difficulties and challenges in advancing smart manufacturing. He emphasized that the driving force to promote smart manufacturing should be the internal needs in enterprises, rather than the external environment and policies. Dr. Huang shared typical examples of cutting-edge technology applications in the field of intelligent manufacturing that we saw during 20 international study tours.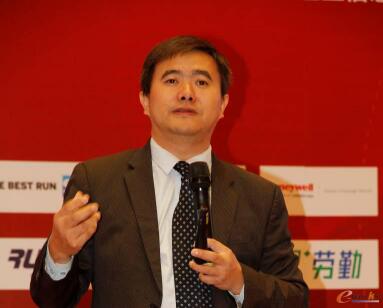 Dr. Pei Huang , e-works CEO
Mr. Wei Du, Vice President of e-works, gave a speech on "Strategy of Digital Transformation and Smart Factory Construction". He said that for most manufacturers, the most important thing is still to complete the construction of digital factories and to lay out connected plants.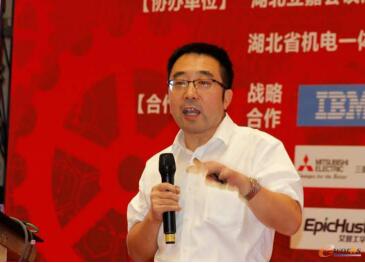 Mr. Wei Du, e-works Vice President
Experts from academia interpret the frontiers and applications of smart manufacturing technology from different perspectives. Prof. Liang Gao from Huazhong University of Science and Technology introduced the cutting-edge trends and typical applications of topology optimization technology; Prof. Haiou Zhang of Huazhong University of Science and Technology shared the independently innovated additive manufacturing technology that integrating casting and milling; Prof. Jinli Xu of Wuhan University of Technology, also the chief engineer of SAIC-GM-Wuling shared the intelligent manufacturing practice of the company, including how to solve the problems of noise and consistency of efficiency and quality.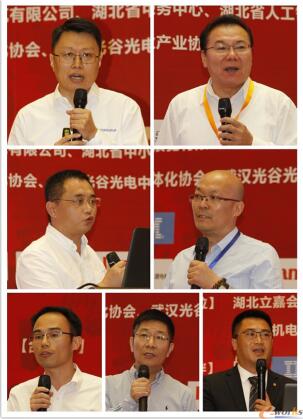 From left to right: Prof. Liang Gao, Prof. Haiou Zhang, Prof. Jinli Xu
Representatives from manufacturing companies also gave speeches. Mr. Weijie Zhang, IM General Manager of Haier introduced the innovation and practices of Haier COSMOPlat, and Haier's mass customization practice. Mr. Pengju Kang, Dean of the Central Research Institute of Xidian Group, shared their experience in equipment intelligence and practice. He pointed out that in the era of industrial Internet, any equipment industry needs to consider the integration of OT and IT. Mr. Jidong Wu, Director of Intelligentization of Wuchuan Group, Mr. Jiaxiang Jing , CIO of Accelink Technology, Mr. Jin Wang, Chief Engineer of Electronic Control Development, Lovol Heavy Industry Agricultural Equipment R&D Institute, Mr. Jun Zhang, Vice President of Data Network Center of CIMC Group, Mr. Bin Chen, President Assistant of Yamazaki Mazak China gave speeches respectively and shared their practical experience in smart manufacturing.

From upper to lower and left to right: Mr. Weijie Zhang, Mr. Pengju Kang, Mr. Jidong Wu, Mr. Jiaxiang Jing, Mr. Jun Zhang, Mr. Jin Wang, Mr. Bin Chen
Representatives of mainstream smart manufacturing solution providers at home and abroad also shared their views on the trends and solutions in smart manufacturing, including IBM, Mitsubishi Electric (China), SIE, Pangus, Dassault Systemes, Epichust, Hikvision, Zebra Technologies, EPLAN, Ruizhi Software, H3 BPM, SAP, AVEVA, Honeywell, Lenovo, Renishaw, COHO, Beijing Lean Intelligence, and Beijing Anwise.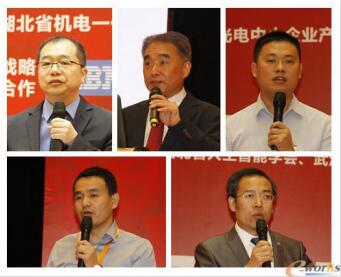 Part of the vendor speakers
During panel discussion and salon sessions, guests discussed the hot and difficult issues of intelligent manufacturing and answered questions on the spot. Booths were set up outside the venue to build a bridge of communication between vendors and manufacturers. Through face-to-face communication with manufacturers, the participants learned about the latest technologies, typical cases and best practices. The event provis enterprises with good references in digital and intelligent transformation in the future and was widely acclaimed by local government, manufacturers, solution providers and industry experts.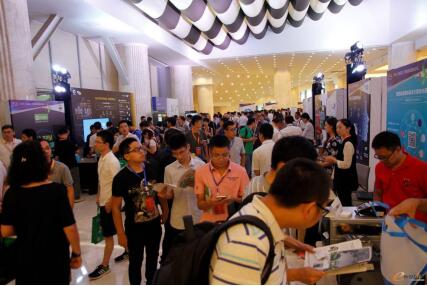 Exhibition booth
The success of this forum provided a good communication platform for both manufacturing companies and solution providers and helped manufacturing enterprises to understand intelligent manufacturing, cutting-edge technologies and leading applications. The event has important significance and practical value for promoting smart manufacturing and digital transformation in China.