CIMdata China 2018 PLM Market and Industry Forum successfully hosted in Shanghai
CIMdata China 2018 PLM Market and Industry Forum successfully hosted at Marriott Hotel Shanghai Hongqiao
April 20 2018, Shanghai—CIMdata China 2018 PLM Market and Industry Forum has been successfully hosted today at Marriott Hotel Shanghai Hongqiao. The topic this year is "Industry 4.0—Its Global Impacts & Status". CIMdata PMIF is a global PLM leadership event in North America, Europe, India, China, and Japan and is exclusively for software and service providers in PLM economy. China is the fourth stop and it is the 7th year that CIMdata and e-works co-hosted the China event.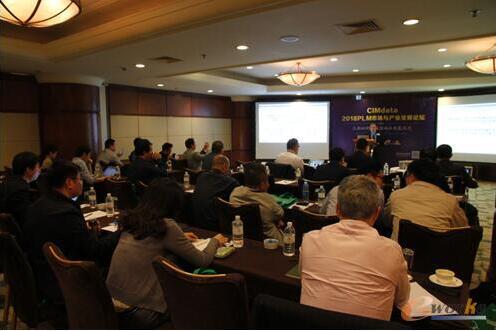 CIMdata China 2018 PLM Market and Industry Forum
Mr. Peter Bilello, CIMdata President and Mr. Stan Przybylinski, CIMdata Vice President gave lectures and shared global PLM market trends and insights with participants. Dr. Pei Huang, e-works CEO translated through the event. Peter and Stan analyzed the current global economic climate and trends as well as examined their effects on the PLM economy. They also released CIMdata's 2017global PLM market analysis results—including extensive analyses and forecasts regarding market growth across PLM domains, industries and regions, and the performance (by revenue and market-share) of leading PLM solution providers. Dr. Huang shared smart manufacturing hotspots, PLM market trends, and mainstream vendors growth in China.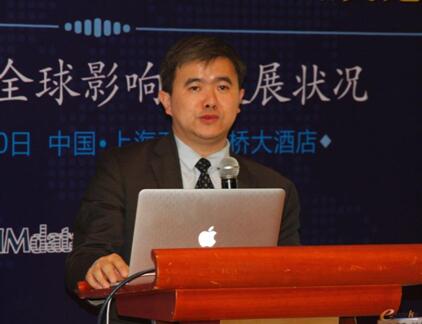 Dr. Pei Huang, e-works CEO
In the keynote speech "State of PLM: Today's Market and Leading Trends", Peter reviewed the PLM market growth in 2017: The overall PLM market was up 7.3% to $43.6 billion in 2017. cPDm sector grew 2.9% to $15 billion with software grew slower and service up. Tools sector grew 7.7% at $27.8 billion with EDA leading the growth. Digital manufacturing sector was up 6.2% to $761.8 million.
Peter also talked about today's major trends and challenges in PLM industry, as well as topics of circular economy, engineering materials, model based system engineering, and digital twin. He pointed out that digital transformation is not the starting point but rather the next step. Enabling Digital Transformation requires end-to-end connectivity and lifecycle optimization (C/O); it also requires organizational, cultural, and technological changes.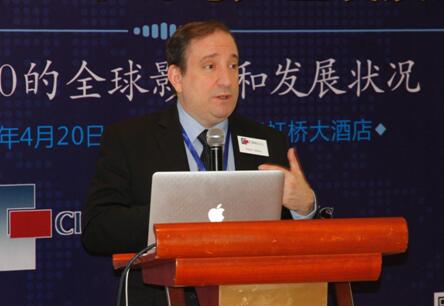 Mr. Peter Bilello, CIMdata President
Stan analyzed in detail the global PLM market presence in 2017 from different dimensions. He thinks solid growth is possible in global PLM market because fundamentals are still there and companies are keeping investing despite unsettled economies. Impacts of subscription are just about worked out in PLM market. Major PLM vendors were trying to differentiate and look to fill out their portfolios. There are 135 acquisitions in 2017 and it is an important part of the platformization trend. In segmented sector, most segments grew and cPDm grew more slowly than the rest of the market in 2017. There will be continued growth in simulation and analysis, systems engineering etc.

Stan Przybylinski, CIMdata Vice President
As a leading global strategic management consulting and research authority focused on PLM market, CIMdata issues annual PLM market analysis report for reference and guide. The country reports released this year will include Brazil, China, Germany, India, Japan, Russia, South Korea, Italy, United Kingdom, France, and the United States.
In the afternoon session, Dr. Huang firstly unveiled PLM market growth digits in China. According to him, Chinese mainstream PLM market in 2017 had a double-digit growth of 12.9% from $1.14 billion in 2016 to $1.28 billion in 2017. Overall Chinese PLM market grew 13.2% to $2.02 billion. Chinese market share grew from 4.4% in 2016 to 4.63% in 2017. In terms of segments, 3D-CAD had a steady growth, design CAD higher than multi-discipline CAD. Simulation and analysis grew faster than overall tools. Digital manufacturing, NC, and CAPP grew very quickly because of strong demand. 2D-CAD sector had tiny growth last year.
Peter and Stan also shared insights on some research and hot topics around PLM applications. The topics they delivered and discussed include Industry 4.0 - A Regional Update, Manufacturing in the Built World, The Industrialization of Additive Manufacturing, SLM: Leveraging IoT/IIoT to Deliver New Capabilities and Business Models, Closing the Big Data Loop in PLM, and Virtual/Augmented Reality.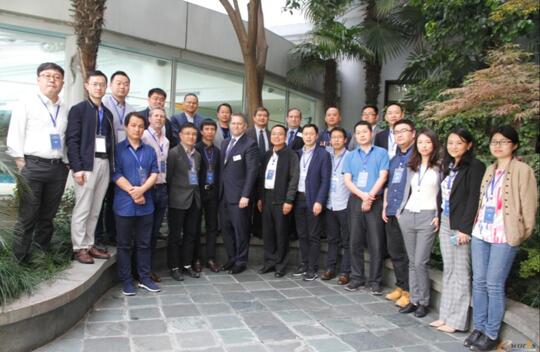 Group photo of China PIMF participants
The event was very successful. It provided professional PLM economy updates, PLM market trends, statistics, and forecasts for participants to better understand PLM technology and concepts. As a key enabler of Industry 4.0, PLM will also play an important role in Made in China 2025 initiative and assist in Chinese manufacturing transformation and upgrading.