e-works successfully organized 2017 Smart Manufacturing and IoT delegation to the US
May 23 2017, Wuhan—Chinese Digital Enterprise Portal e-works announced that e-works has successfully organized the 4th Smart Manufacturing and IoT delegation to the U.S. from May 13 to May 22 2017.
Over 20 elites followed Dr. Pei Huang, e-works Chairman to 9 world-class industrial manufacturers and research institutes and had a thorough experience of industrial internet of things and best practices. Besides, they also toured the magnificent Niagara Falls and experienced culture and customs in Chicago.
1st Stop—PTC Headquarter
On the morning of May 15 local time, delegation members visited PTC headquarter in Boston and learned their latest vision of integrate the Digital with Physical. Mr. Jim Heppelmann, PTC Global CEO introduced PTC's new strategy. Mr. Howard Heppelmann, PTC Connnected Manufacturing VP showed PTC's intelligent manufacturing. PTC engineers showed 3 Demos respectively illustrate PTC's digital design, digital manufacturing, and digital services.

Mr. Jim Heppelmann introducing PTC's strategy

e-works delegation at PTC
2nd Stop—Kronos
On the afternoon of May 15, e-works delegation came to Kronos, a world leader in labor force management. upwards of 40 million people at more than 30,000 organizations around the world rely on Kronos workforce solutions every day. Mr. Bob Hughes, Kronos Chief Strategy Officer met the delegation and introduced the profile of the company. Mr. Charlie Dewitt, Kronos Business Development VP and Mr. Jian Zheng, Kronos Chief Designer shared how Kronos help manufacturers upgrade their productivity and innovation ability. Right now, Kronos is moving towards cloud. Over 90% new customers choose to deploy their products on the cloud. Kronos has over 20,000 customers using Kronos cloud solutions.

Mr. Bob Hughes lecturing

e-works delegation at Kronos
3rd Stop—Covisint
On the morning of May 16, the delegation visited Covisint Headquarter in Detroit to see their IoT platform. Mr. Binu Panicker, Covisint Research VP talked about how Covisint IoT platform can help automotive manufacturers build up ecosystem and connection without space and time limitation. Mr. Bob Dojcinovski, Covisint Engineering Director tells how to use Covisint's IoT platform to interconnect people, system, and things.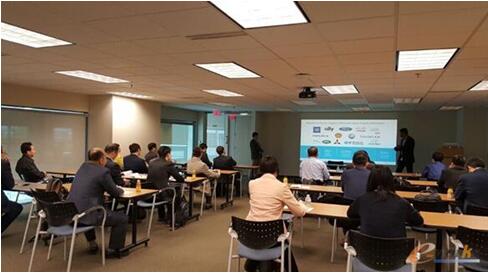 Mr. Binu Panicker lecturing

Covisnt executives and e-works delegation
4th Stop—ROUGE Factory and Henry Ford Museum
On the afternoon of May 16, they came to visit Ford Rouge Factory and Henry Ford Museum at Dearborn, Detroit. Founded in 1903, Ford Motor Company is one of the largest automotive manufacturers in the world. The popular F-Series trucks are manufactured at Ford Rouge Factory.

Ford Rouge Factory
Delegation members mainly investigated the Rouge assembly shop. It is composed of several different assembly lines. In the mixed model assembly lines, the space is fully utilized with stations along the both sides and conveyor lines overhead. Later the day they observed legendary vehicles made at Ford Rouge Factory in the Legacy Gallery and experienced the F-150 truck.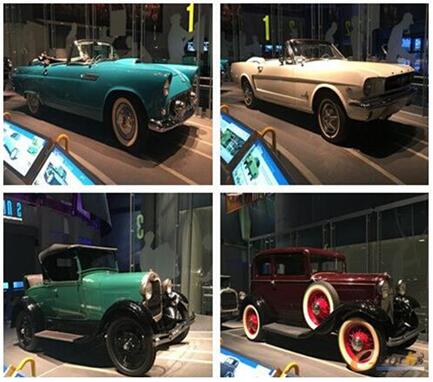 Ford F-150 truck
5th Stop—3D Lab in University of Michigan
On the morning of May 17, delegation had a short training in University of Michigan. Founded in 1817 in Detroit, the University of Michigan is the state's oldest university and one of the foremost research universities in the United States. Professor Jionghua Judy Jin guided the delegation to the 3D Lab of mechanics institute in UM. Later she lectured on data fusion research in innovation and quality improvement. She talked about how to deal with design error, development of quality control engineering, and her research project.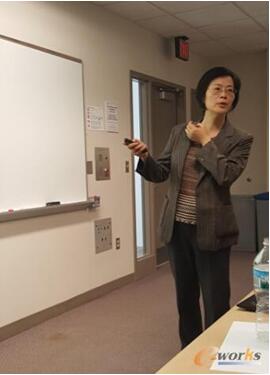 Professor Judy Jin



e-works delegation at University of Michigan
6th Stop—Altair Headquarter
On the afternoon, the delegation visited the world giant in simulation and optimization software—Altair. Mr. Jim Scapa, Altair CEO and Mr. Rid Yen, Automotive Business Vice President met the delegation. Altair is focused on the development and broad application of simulation technology to synthesize and optimize designs, processes and decisions for improved business performance. Its topological optimization software nearly became a standard equipped in automotive industry. The members listened to the lectures about simulation-driven innovation, topological optimization, additive manufacturing, and Internet of Things. Later they toured Altair labs.

Altair executive lecturing
7th Stop—Harley-Davidson Motor Factory
On the morning of May 18, delegation had a Harley-Davidson Motor "Steel Toe Tour" in Milwaukee Factory. Founded in 1903, Harley-Davidson is one of the most well-known motorcycle brand around the globe. Over 110 years, there are so many Harley fans across the world. The delegation visited Harley's power assembly shop and experienced its lean management, intelligent manufacturing, and corporate culture.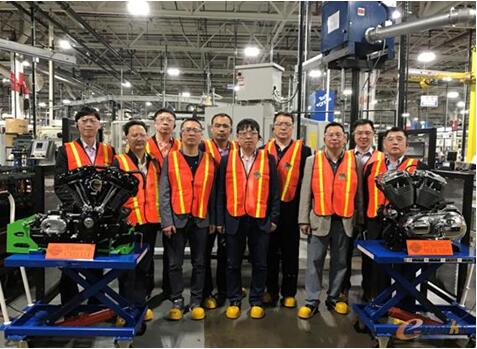 "Steel Toe Tour" at Harley-Davidson
8th Stop—Rockwell Automation Headquarter
On the afternoon of the day, they visited Rockwell Automation Headquarter in Milwaukee, Wisconsin and learned their Connected Enterprise solution and intelligent manufacturing leader alliance. Mr. Tom O'Reilly, Global Business Vice President and Mr. David A. Vasko, Research Director met the delegation. Tom introduced the company shared the integration of information technology and operation technology. Rockwell is a global company focusing on automation with more than 110 years of history and $6 billion revenues.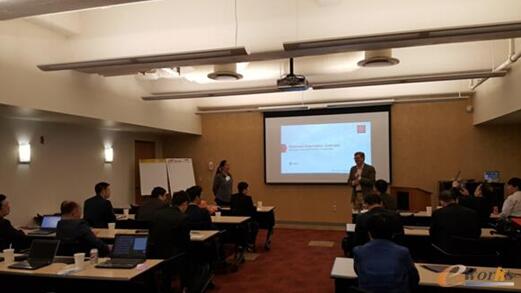 Mr. Tom O'Reilly introducing Rockwell Automation
9th Stop—John Deere World Headquarters
On May 19, the delegation visited the agricultural machinery giant John Deere. Its products cover agricultural machinery, golf and playground machinery, engines and drive systems etc. The brand is honored as "Mercedes-Benz of agricultural machinery products". In the harvesting Group, they watched the process of sheet metal, welding, painting, and assembly shop. The birth of a harvesting machinery impressed all the members very much.
Products of John Deere

e-works delegation members at John Deere Headquarter
Wrap-up meeting
On the morning of May 21, the delegation had a wrap-up meeting and shared their observations and experience. So far, the 4th Smart Manufacturing and IoT delegation to the US closed successfully.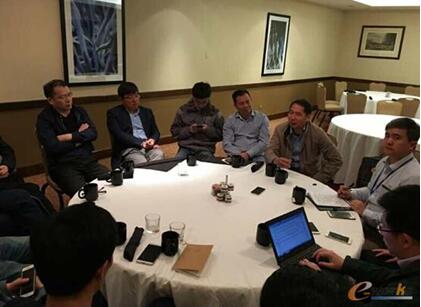 Wrap-up meeting
In the future, e-works will continuously invite executives from large and medium sized Chinese manufacturing companies to visit the leading manufacturers, Smart manufacturing and IIoT solution providers, institutes in the US to explore the solution and best practice of smart manufacturing and IOT in the US. In June 2017, e-works will also navigate an "Industry of the Future" Delegation to France and we sincerely invite you to join the journey with us.
More about the "Industry of the Future" Delegation:
http://www.e-works.net.cn/report/2017france/2017france.html
More about the Smart Manufacturing Delegation:
http://www.e-works.net.cn/report/201705usa/usa.html
About e-works:
e-works is an online media, vertical portal, service and research organization focus on IT application of Chinese Manufacturing. e-works portal (www.e-works.net.cn in Chinese and www.eworksglobal.com in English) is the most popular and authoritative portal of Chinese manufacturing IT application area. e-works has over 720,000 subscribers and more than 310,000 social media followers. From 2014, e-works has successfully organized 5 delegations to Germany. e-works has long term cooperation with German IT vendors, such as Siemens industrial software, SAP, abas, MPDV, PSI, Software AG, Seeburger, etc.