The Giant Awakens
In this article, the author,authority in China PLM field, has analyzed China PLM market based his rich professional experience and sharp eyes.
It is undeniable. China is rapidly becoming the manufacturing center of the world. In 2004, China's export and import trade was $1154.8 billion, with a growth rate of 35.7%. Indeed, China has become the largest investment destination in the world. Over 70% of the $60.6 billion China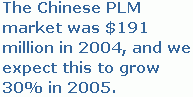 received in foreign investment was in the manufacturing sector. Over 40,000 foreign companies have created new manufacturing facilities in China or established manufacturing partnerships with existing Chinese manufacturers. With more and more multi-national manufacturing enterprises moving their factories to China, the manufacturing sector grew 16% in 2004, and is expected to grow 15% annually over the next 5 years. The number and revenue of private manufacturing companies are growing at a dizzying speed, especially in coastal provinces. In fact, China is locked into an accelerated path to industrialization with about two hundred million people—that's almost two thirds of the total population of the United States—having moved to the cities in the last five years. What's more, this movement is expected to accelerate.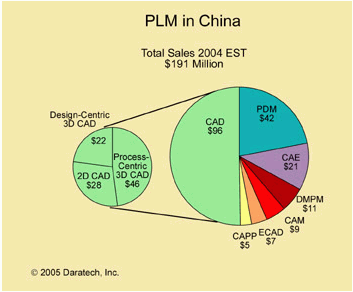 The low cost of labor coupled with heavy investment in public infrastructure and the potential of China's vast domestic market are just three of the reasons for China's hyper-growth of the last 20 years. The great enthusiasm of the Chinese people to participate in its burgeoning economy and a positive, business-friendly environment are also very important contributors to growth.
Of course, despite its prosperity, Chinese manufacturing is not immune to the ever-changing needs of new product development and engineering. Thus, PLM technologies, including MCAD, CAPP, DMPM, CAE, CAM, PDM, ECAD, and others, have acted as a growth engine of Chinese manufacturing enterprises since 1990.
The Overall PLM Market in China
e-Works and Daratech estimate the Chinese PLM market saw sales of approximately $191 million in 2004, with growth of 30% in 2005 expected to bring the market to almost $250 million. This figure includes channel revenue but does not include associated services. Compared with the more established North American and Western European markets, the Chinese PLM market is still in its early stages but has a far greater growth potential and our forecast for its growth is roughly three times that of the rest of the world.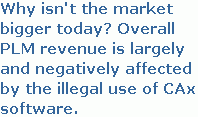 Why isn't the market bigger today? Overall PLM revenue is largely and negatively affected by the illegal use of CAx software, especially 2D and 3D CAD, with the number of illegal users probably outnumbering legal users by at least 5 to 1. However disconcerting this may seem, this irregularity actually underscores the growth potential in the next five years, as illegal use diminishes. Urging illegal CAD users to switch to legal versions has improved the revenue potential of companies such as Autodesk, SolidWorks and other international CAD suppliers. As the intellectual property protection status of China steadily improves and attitudes change to accept the value of intellectual property rights, even greater potential exists for strong growth going forward. Another important factor in sizing this market is the fact that implementation and maintenance revenue is much lower in China than in the North American and Western European markets. However, this is expected to change in the not too distant future.
The Market for 2D Drafting Still Strong
The 2D MCAD market in China topped $28 million in 2004. This market was dominated by Autodesk, with about an 80% market share. Domestic vendors CAXA and KMSOFT owned most of the other 20%.
3D Mechanical CAD in China Driven by Technology

Total sales of MCAD products in China in 2004 were approximately $68 million, driven largely by the technology-driven or process-centric segment, which reached $46 million in 2004. Dassault Systemes, UGS, and PTC dominate this sector with almost 100% combined market share.
The market for value-priced or design-centric 3D MCAD exceeded $22 million in 2004. SolidWorks, Solid Edge and Inventor together own most of this market, but CAXA—a local supplier with robust 3D software based on IronCAD—has strong support and a 5% market share. Other smaller players in the 3D CAD market include Solid3000, a Chinese brand, as well as Topsolid, VX CAD, and many others. As in other parts of the world, suppliers see a great deal of opportunity as they try to convert the millions of 2D seats in China to 3D seats. We expect strong movement in this direction in the next five years as more and more OEMs recognize the benefit of working with their suppliers in 3D.
Simulation Shows Potential
The CAE market in China was approximately $21 million in 2004. The leading CAE providers active in the Chinese market are MSC.Software, ANSYS, ABAQUS and COSMOS. Together they account for approximately 85% of the market. Moldflow, Fluent, ZRCAE—a Chinese finite element analysis software provider—and other local developers account for the remaining 15% of the market.
The Chinese CAM Market at $9 Million
Computer aided manufacturing (CAM) sales were about $9 million in 2004. Mastercam, UGS, Cimatron, Delcam, and CAXA account for most of these sales. In addition, many accounts using Dassault and PTC solutions for CAD are using those providers' integrated CAM tools as well. EdgeCAM and HyperMILL also have an established presence in China, and ESPRIT and SolidCAM are new entrants to the Chinese market.
PDM Dominated by Local Suppliers?
The PDM market in China was about $42 million in 2004. In this area, Teamcenter and Windchill are the main providers to large manufacturing enterprises. ENOVIA also has a presence. Together Teamcenter, Windchill and ENOVIA make up about 80% of the market. SmarTeam has hundreds of customers, including both large manufacturers and small manufacturing enterprises. There are also several local PDM vendors including KMSOFT, EXTECH, TIPDM, SIPM, among others. On the basis of numbers of customers, local vendors dominate the market; however, on the basis of revenues, the international suppliers have the lion's share of the market.
CAPP and DMPM are Poised to Surge
The market for Computer Aided Process Planning (CAPP) solutions was approximately $5 million in 2004. Not surprisingly, CAPP software is becoming widely used in China as it supports and enhances China's manufacturing efficiency. Domestic suppliers including KMCAPP, TH-CAPP, CAPPFrameWork, and SIPMCAPP dominate the CAPP market in China.
The main functions of CAPP include creating the process plan for producing components and assembling them into sub-assemblies and products; describing the steps and parameters for manufacturing procedures; creating instructions for production and assembly methods; selecting the material and determining the timing of each step; and finally generating the manufacturing bill of material (MBOM) information.
CAPP solutions are often 2D and have, in recent years, expanded in capability to 3D solutions often referred to as "digital manufacturing process management" or DMPM. DMPM solutions enable more accurate collaboration around the product, process and resource information to optimize production lines; analyze production and assembly processes for complicated products with many configurations; simulate the production process; calculate tolerances; control production costs; bi-directionally integrate with ERP systems; and directly transmit product information to CAM systems.
The market for DMPM is in the early stages in China and was estimated by e-Works and Daratech to have sales of about $11 million in 2004. UGS has the beginnings of a strong customer base with its newly acquired Tecnomatix software, and Dassault recently began promoting DELMIA in China, with some early success. e-Works and Daratech are confident that digital manufacturing solutions will be a popular choice for larger enterprises going forward, especially in the Chinese military and automotive industries.
Electronic CAD Still 2D
The Chinese ECAD market saw revenue of about $7 million in 2004. AutoCAD Electrical makes up the bulk of the market while domestic products such as SuperWORKS, ICAD, and HECAD also account for a significant percentage of this emerging market.

PLM: CHINESE MARKETS & OPPORTUNITIES
A detailed report titled PLM: Chinese Markets & Opportunities is being researched by e-Works and Daratech and will be made available in the fall. Please contact Daratech at www.daratech.com/research/china for the English version, and e-Works at www.e-Works.net.cn for the report in Chinese.
About e-Works
e-Works Manufacturing Information Technology (China) Co., Ltd., is one of the best known IT research, training and consulting companies serving Chinese manufacturing enterprises. Its well regarded www.e-Works.net.cn portal, which records over 100,000 page hits per day and has more than 150,000 subscribers, provides Chinese manufacturing companies information and opinion about CAD/CAM, CAE, PLM, ERP, CRM, SCM and other IT applications of interest to Chinese manufacturing enterprises. e-Works has teamed up with Daratech, the world's leading PLM think tank and market research organization to report on Chinese PLM markets, opportunities, modes of working and partnering.