CIMdata Publishes China PLM Market Report
CIMdata, Inc., the leading global PLM strategic management consulting and research firm announces the release of the CIMdata 2019 China PLM Market Analysis Report.
This report provides detailed information and in-depth analysis on the People's Republic of China's ("China") rapidly-evolving PLM market for calendar year 2018. The report discusses the major PLM trends and issues, PLM purchase investments in software and services, PLM adoption in various industry sectors, and market growth forecasts that pertain to China; an important and quickly expanding economic region. The report provides insight into PLM market dynamics within the region and the revenue performance of the leading PLM solution providers operating within it, both China-based and international PLM solution providers headquartered elsewhere. It reports on revenues attributable to various PLM solution providers in the Chinese market. This report is a joint collaborative effort of CIMdata and China-based e-works Research (http://www.eworksglobal.com/ in English and http://www.e-works.net.cn in Chinese).

The CIMdata China PLM Market Analysis Report contains two parts:

"Part 1: Non-Restricted PLM Data for China" focuses on the Chinese economy and the overall PLM market, including some qualitative information about leading PLM solution and service providers in China. It is this public report that is being published today.
"Part 2: Restricted PLM Data for China" focuses on the results of the leading providers in the overall PLM market in China and in selected segments and industries. All information contained in the China PLM Market Analysis Report are CIMdata's estimates.
Stan Przybylinski, CIMdata Vice President said, "In CIMdata's measurement the global PLM market grew 9.4% in 2018, well above our forecast. China saw 15.9% growth, another very strong year." Chinese industries that are heavily investing in PLM include aerospace, automotive, high-tech electronics, and mechanical machinery. The following chart illustrates the growth and size of the China PLM market from 2014 through 2018.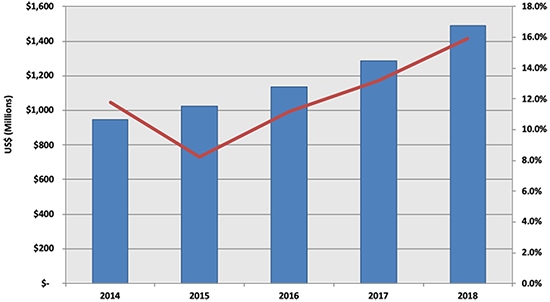 China PLM Market from 2014 through 2018
(CIMdata Estimates)
Global PLM solution providers continue to invest in China and are expanding their partner networks and growing their customer bases. The leading international PLM solution providers including Dassault Systèmes, PTC, and Siemens PLM Software are all showing continued growth in China, but local firms are growing as well. "Local Chinese solution providers are starting to gain real market share," stated Peter Bilello, CIMdata's President & CEO. "We had strong attendance at our eighth annual China PLM Market & Industry Forum. Chinese companies see the need to develop smart, connected products and are very interested in systems engineering. These Chinese competitors are closer to their local market and are expanding their offerings into new segments, a good sign for the vitality of the Chinese PLM market," he added.

This report reflects the trend that Chinese manufacturers are paying more and more attention to product innovation and are rapidly improving their own R&D capabilities and processes by deploying PLM, not only in traditional discrete industries, but also in life sciences, food & beverage, and several emerging vertical markets.

CIMdata designed this report to be a valuable source of information to support the business and market planning processes of PLM solution providers that are targeting China, as well as industrial companies within China who would like to understand the PLM competitive landscape. Further details about the report including pricing information is available on CIMdata's website for publications.

Notice of restriction on republication: The data, PLM solution provider results and rankings, from Part 2 of this report are for the internal use of the purchasing organization only and may not be communicated in any form outside of the purchasing organization.