e-works successfully organized the first 'New Industrial France' delegation
On June 25th, Chinese Digital Enterprise Portal e-works announced the successful conclusion of the first "New Industrial France" 2017 delegation. In the ten-day exploration, 16 Chinese manufacturing delegation members visited main stream French industrial enterprises and IT solution providers.
On June 25th, Chinese Digital Enterprise Portal e-works announced the successful conclusion of the first "New Industrial France" 2017 delegation. In the ten-day exploration, 16 Chinese manufacturing delegation members visited main stream French industrial enterprises and IT solution providers, including Dassault Systemes, IGE+XAO, Lectra, PSA Peugeot Citroen, Schneider Electric, and ESI Group.
Dassault Systemes, the 3DEXPERIENCE Company, provides businesses and people with virtual universes to imagine sustainable innovations. Its 3DEXPERIENCE Platform leverages the Company's world-leading 3D software applications to transform the way products are designed, produced, and supported, enabling businesses to craft delightful customer experiences. Mr. Lening Zhang, Dassault Systemes Industrial Equipment Industry Manager introduced their latest development. Lening Pointed out that in the wave of manufacturing development, Industry 4.0 is the vision, smart manufacturing is the goal, and continuous digital tread is the means. At 3D Experience Center of Dassault Systemes Headquarter, they experienced the product interconnection through VR and AR technology, including immersion virtual reality, product configurator, and human-machine collaboration.

Experiencing real time collaboration in VR environment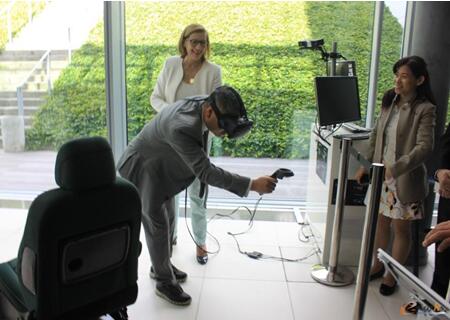 Experiencing immersive VR technology applied in automotive design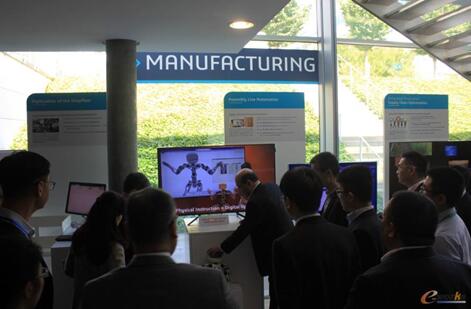 Demonstrating Digital Twin on 3D Experience Platform
For over 30 years, the IGE+XAO Group has been a software publisher designing, producing, selling and ensuring the maintenance of a range of Computer Aided Design (CAD) and Product Lifecycle Management (PLM) software. These software products have dominated over 70% CAD market share in France. Mr. David SABOT, International Key Customer Business Director introduced their group development, positioning, software product, and shared electrical CAD industry successful cases. During the stay, delegation members also get to know their electrical CAD software specific applications and customized solutions for eight industries.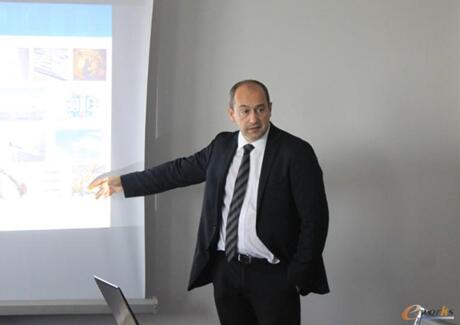 Mr. David SABOT introducing IGE+XAO business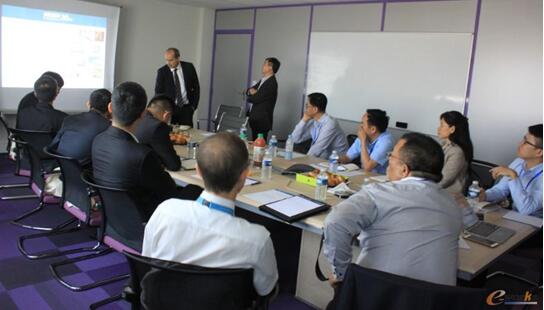 Sharing CAD cutting edge technology and best practice
Lectra is the world leader in integrated technology solutions—software, CAD/CAM equipment, and associated services—specifically designed for industries using fabrics, leather, technical textiles, and composite materials to manufacture their products. It serves major world markets: fashion and apparel, automotive, and furniture as well as a broad array of other industries (aeronautics, marine, wind power, etc.). Now, automotive industry business accounts for 44% of Lectra's total business and fashion and apparel accounts for 40%. Ms. Amanda Prudhon, Lectra International Advanced Technology Center Director warmly welcomed the delegation. e-works delegation listened to Lectra's 3D design solution, optimal layout, and cutting room 4.0 solutions and experienced cutting bed for fabric, airbag, and leather. Later they toured Lectra's production workshop.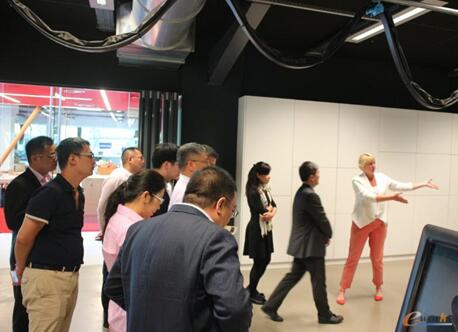 Ms. Amanda Prudhon escorting the tour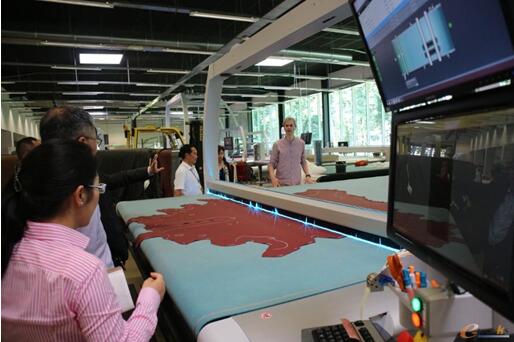 Lectra's FocusQuantum solution for SRS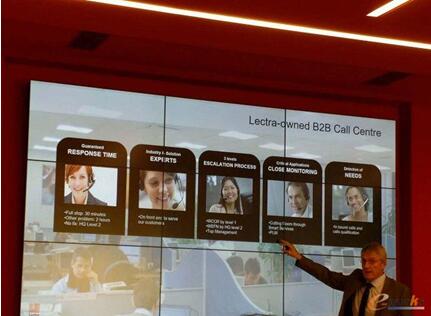 Mr. Didier Teiller introducing Lectra's service business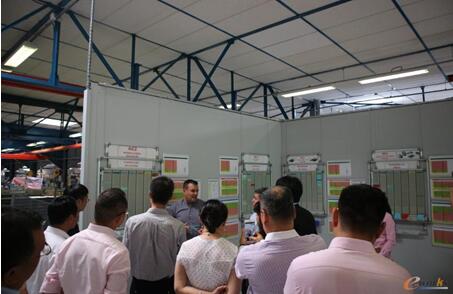 Mr. Eric Lespinasse lecturing at Lectra plant
From the production of vehicles to the design of innovative services adapted to customer needs and the invention of solutions that shape future mobility, the PSA Group is present across the entire automotive value chain. The PSA Group is present in some 100 countries and had more than 3 million vehicles sold worldwide in 2016. In France, PSA has 4 OEMs and 1 engine plant. Ms. Corinne Spilios PSA Senior VP accompanied the delegation and guided them to the welding, painting, and assembly shop. She also shared vision and Excellence of PSA Group.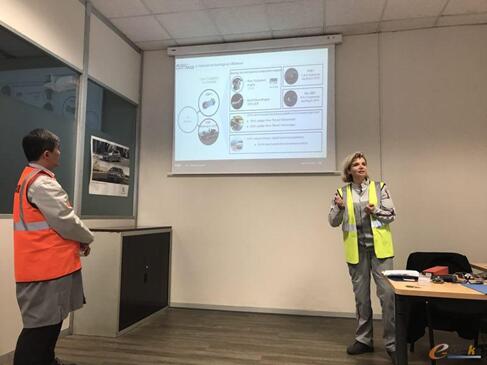 Introducing business of PSA Group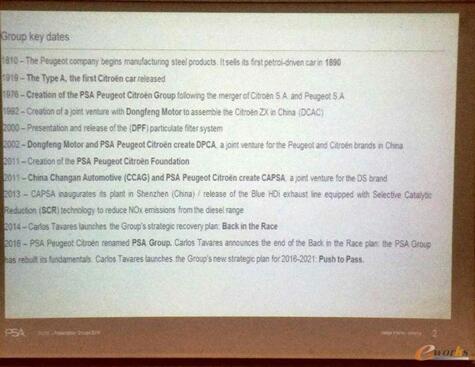 Memorabilia of PSA Group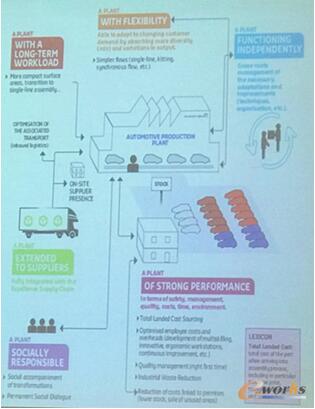 PSA Group creating a brilliant factory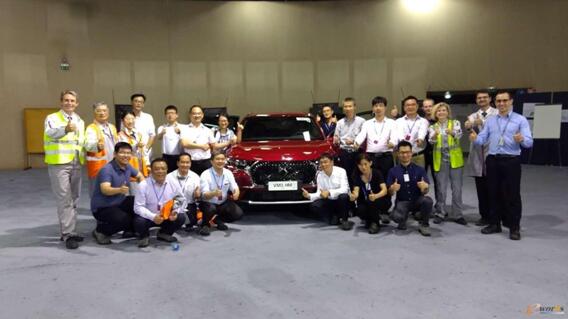 Delegation members and French President Macron's sedan DS7 that entering the Elysee Palace
Schneider Electric is the global top 500 with over 26 billion euro revenues and 170,000 employees. It develops connected technologies and solutions to manage energy and process in ways that are safe, reliable, efficient and sustainable. Mr. Pierre TABARY Schneider Electric VP received the delegation and made a speech. The delegation members visited Schneider Innovation Center and listened about their electrical products and solutions. Later they came to visit the contactor and actuator plant over 100 miles to the west of Paris by bus.

Visiting Schneider Electric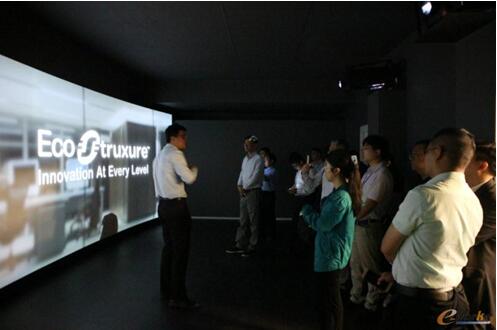 Lecturing on Schneider products and business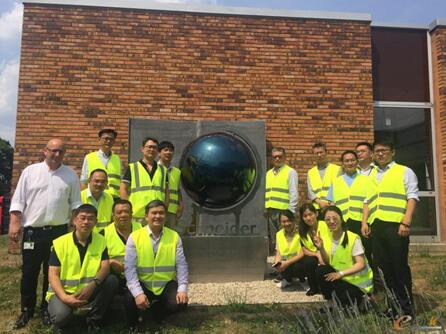 Visiting Schneider plant
On 22nd June, e-works delegation visited the 52nd International Paris Air Show. It is a large commercial event, with a major purpose being to demonstrate military and civilian aircraft to potential customers. It claims to be the most prestigious aircraft exposition in the world. Major aircraft sales contracts are announced by manufacturers during the show. All major international manufacturers, as well as representatives of the military forces of many countries, attend the Paris Air Show. The delegation also stayed in the stand of ESI Group, Dassault Systemes, Festo, Autodesk, Spring Technologies, Renishaw, and Fanuc.
The 2017 Paris show attracted 2400 exhibitors and 130 aircrafts from all over the world, which including 15 Chinese enterprises, led by Aviation Industry Corporation of China. On the show, there were Wing-Loong II UAS full size model, FC-31 model, C919 and ARJ21 airliner model from China.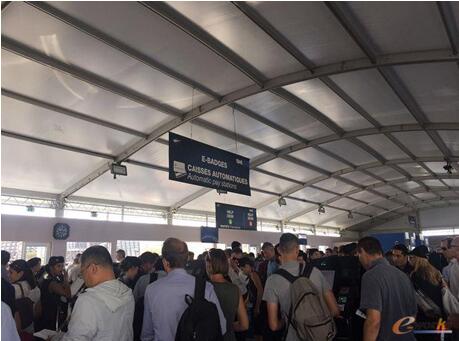 Visitors at 2017 Pairs Air Show

e-works delegation visiting ESI stand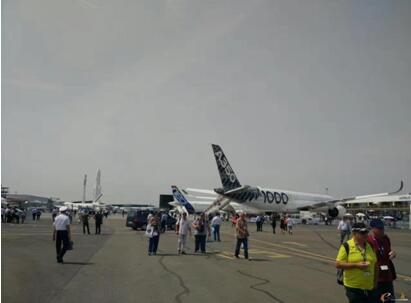 Aircrafts at 2017 Paris Air Show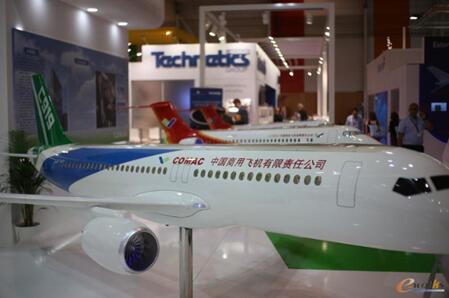 Models of COMAC C919 and ARJ21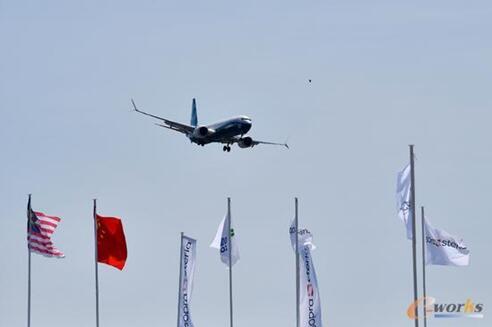 Boeing 737 MAX9 at the Air Show
The last stop was ESI Group office at Teratec. The delegation listened to Mr. Christopher.ST.John, ESI Group COO's speech on transformation of digitalization. Later they experienced ESI's practice in vehicle collision simulation and high performance computing technology and visited ESI Group's high performance computing center.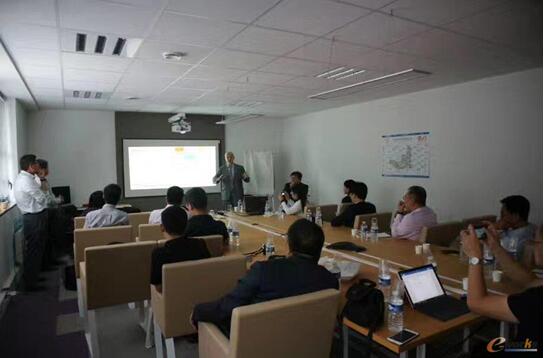 Mr. Christopher.ST.John giving a lecture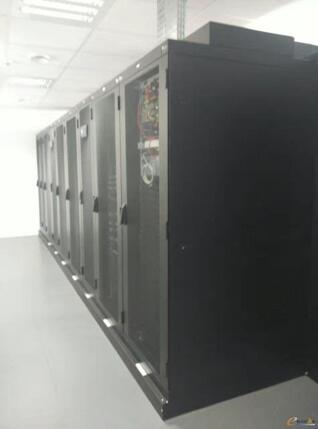 Super Computing Center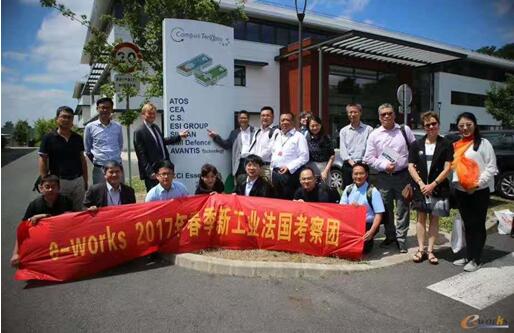 Group Photo
The delegation members benefited a lot from this tour. French industry is not only well established but also being a cutting-edge leader in many traditional and emerging areas. Besides the romance in French, their spirits of innovation and exploration are also valuable and worth learning.
More informationabout this French delegation:
http://www.e-works.net.cn/report/201706france/france.html
About e-works:
e-works is an online media, vertical portal, service and research organization focus on IT application of Chinese Manufacturing. e-works portal (www.e-works.net.cn in Chinese and www.eworksglobal.com in English) is the most popular and authoritative portal of Chinese manufacturing IT application area. e-works has over 720,000 subscribers and more than 310,000 social media followers. From 2014, e-works has successfully organized 5 delegations to Germany. e-works has long term cooperation with German IT vendors, such as Siemens industrial software, SAP, abas, MPDV, PSI, Software AG, Seeburger, etc.