2016 Chinese Intelligent Manufacturing Forum successfully hosted
September 23rd 2016, Wuhan—e-works, Chinese Digital Enterprise Portal announced the successful conclusion of the 2nd Chinese Intelligent Manufacturing Forum at Wuhan InterContinental Hotel.
The forum has aroused wide attention in the industry. Over 1,000 participants attended the forum, including government leaders, IT experts and scholars, manufacturing and software vendor representatives across the nation. The theme of the forum this year focused on "Chinese intelligent manufacturing roadmap in the next decade", highly concerning the new normal of current Chinese economy and industry development strategy.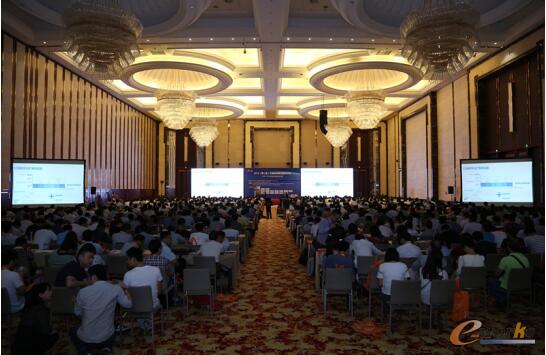 Mr. Guangli Dong, Wuhan Government Deputy Secretary General addressed the forum. He believes that intelligent manufacturing will largely accelerate the growth of manufacturing service industry and new businesses. Intelligent manufacturing also plays an important role in moving towards a powerful manufacturing nation.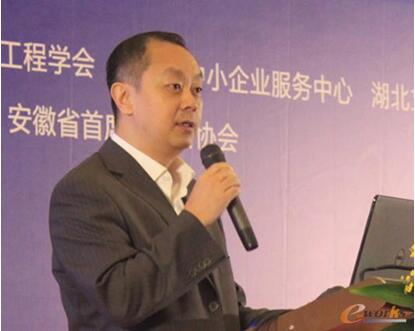 Mr. Guangli Dong, Wuhan Government Deputy Secretary General
Heavy weights talking
Mr. Peigen Li, fellow of CAE analyzed intelligent manufacturing enabling tools and key technologies. He calls for more attentions on enabling technologies and pointed out that enabling tools are critical for the landing of intelligent manufacturing.

Mr. Peigen Li, fellow of CAE
Mr. Jay Lee, Professor of University of Cincinnati gave a wonderful speech on intelligent services. He introduced US nation's intelligent manufacturing maintenance system and American manufacturing as well as big data's impact on manufacturing transformation and services. His theory of "fried egg model" was very impressive. He considered the manufacturing products as yolk and data that generated from the product as the egg white. He pointed out that manufacturing can't success through the quantity of data but the value from data analysis that matters.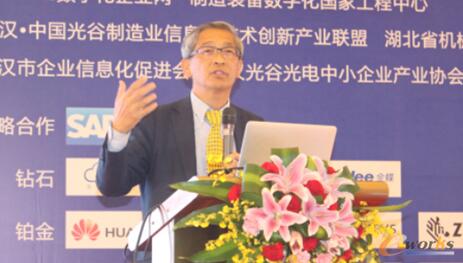 Mr. Jay Lee, Professor of University of Cincinnati
Mr. Xinyu Shao, HUST Managing Vice President introduced the development trends of intelligent equipment. He believes that the true smart machine tool should be both intelligent and professional.

Mr. Xinyu Shao, HUST Managing Vice President
Mr. Xiahui Tang, HUST Photoelectricity School Professor introduced the current development status of laser processing technology and equipment including major industry applications.

Mr. Xiahui Tang, HUST Photoelectricity School Professor
Dr. Pei Huang, e-works CEO gave a keynote speech on Sharing Economy Practice in Manufacturing. Dr. Huang pointed out that Chinese manufacturing is still at smart level. True intelligent manufacturing system can do data collecting, processing, and analyzing, and can execute instructions and realize closed loop feedback. Besides, it can do autonomous learning, autonomous decision-making and continuous optimization.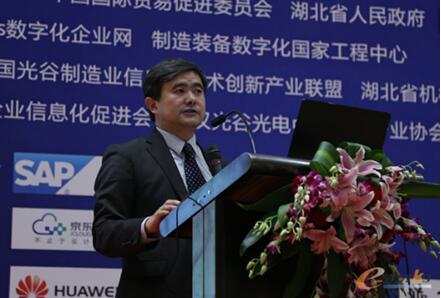 Dr. Pei Huang, e-works CEO
Intelligent manufacturing case sharing
Mr. Hailin Tong, Vice President of Midea Group Wuhan Refrigeration Equipment Co., Ltd. introduced their way to intelligent manufacturing. He pointed out that intelligent manufacturing not only requires high quality and efficiency but also the upgrading of smart products. Dr. Feng Li, Wuhan Marin Machinery Plant Co., Ltd. Intelligent Manufacturing Team Leader gave a wonderful speech on "intelligent manufacturing accelerates ship-supporting enterprises' transformation and upgrading". Mr. Ran Shao, Bosch Production Equipment Manufacturing Service Manager shared Bosch's understanding and practice of Industry 4.0. Bosch believes that Industry 4.0 means the connect between people, equipment, product, and IT systems. People is the most important factor in Industry 4.0. Mr. Longfu Chen, Zhuzhou CRRC Times Electric Co., Ltd. Operation Management Chief shared their intelligent manufacturing roadmap. First, they are planning project design of equipment and software. Second, they hope to complete building of main software and hardware.


From left to right: Mr. Hailin Tong, Dr. Feng Li, Mr. Ran Shao, Mr. Longfu Chen
Intelligent manufacturing solutions
Domestic and overseas main stream vendors brought their latest intelligent manufacturing solutions, including SAP, Jcloud, Microsoft, and Kingdee. Other solution providers include Huawei, Hikvision,3D Systems, Zebra Technologies, Mitsubishi Electric, INTMES, ZQSOFT, Xiaoshouyi, and YIXIQQ also brought successful case sharing.
There are three panel discussion sessions in the forum—"Chinese Intelligent manufacturing roadmap", "intelligent equipment and smart factory", and "intelligent manufacturing software and IoT".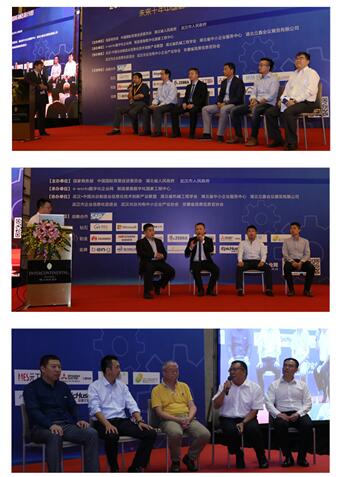 Panel Discussions
During the dinner, there is also a talk and exclusive interview between Dr. Pei Huang and four guests respectively about their work and entrepreneurial experience, Mr. Yunfeng Wu, previous the Sany Heavy Industry CIO, Mr. Xianzong Qiu, SAP Extended Supply Chain Business Director, Mr. Hongwei Li, Dongfeng Automobile Management Chief, and Mr. Wei Shi, ZQSOFT Vice President. They talked about their work inspirations and lessons learned which made the present participants learned a lot.

Exclusive Interviews
The forum will help the understanding and application of intelligent manufacturing in the transformation and upgrading of Chinese manufacturing.