Medical firms see healthy foreign trade growth
China's medical foreign trade grew by a record 10.5 percent in 2012, a figure that is expected to surge even higher this year, the industry's chamber of commerce said on Tuesday.
Statistics from the China Chamber of Commerce for Import & Export of Medicine & Health Products, an organization under the Ministry of Commerce, showed that the export and import volume of China's medical industry totaled $80.95 billion in 2012, a year-on-year rise of 10.5 percent. The chamber forecast a 12 percent increase this year.
The continued increase can be attributed to overseas expansion efforts by Chinese drugmakers and medical device manufacturers, including mergers and acquisitions and overseas listings, as well as growing international recognition of Chinese medicines and medical equipment, said Xu Ming, vice-president of the chamber.
Chinese companies are actively expanding overseas, not only exporting their products but also consolidating their overseas presence through M&As, organic growth and listings.
In September 2012, for instance, BGI (Beijing Genomics Institute) Shenzhen announced the acquisition of US-based Complete Genomics Inc, an industrial leader in whole human genomic sequencing, for $117.6 million.
Shanghai biopharmaceutical company Fosun Pharmaceutical Group Co Ltd, on the other hand, opted for organic growth, with the establishment of a plant in the West African nation of Cote d'Ivoire in July 2012. Services of the facility are expected to cover 17 nations and regions in western Africa, according to Fosun.
The drugmaker received a five-year, 300-million-yuan ($47.2 million) loan in August 2012 from the International Financial Corp to assist with its overseas expansion.
Chinese medical equipment producers, such as Shenzhen-based Mindray Medical International Ltd and Jiangsu-based Trauson Holdings Co Ltd, are other pioneers in the industry by listing overseas.
"We believe more and more local companies, along with their increased competitiveness and demand for capital and markets, will go global, which will promote cross-border trade," said Xu.
According to the chamber, the export volume of China's medical sector amounted to $47.6 billion in 2012, an increase of 6.9 percent year-on-year.
The European Union, the United States, Japan and South Korea remain key export markets for China's medical products, accounting for 78.2 percent of the nation's total pharmaceutical exports in 2012.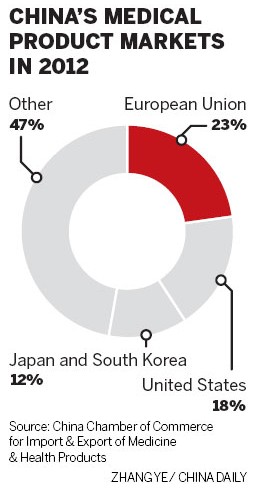 "Chinese enterprises have accelerated product registration in these markets, reflecting their confidence and increased competitiveness in the international market," said Xu.
Last year, Chinese medical companies submitted 201 files to the US Food and Drug Administration, 33.1 percent more than in 2011. Meanwhile, similar applications to the European Directorate for Quality Medicines reached 173, up 34.1 percent year-on-year.
"We know that more domestic drugmakers are actively preparing to introduce their products to developed markets," said Xu.
Bruce Liu, a partner and head of the medical care unit at Roland Berger Strategy Consultants, said that Chinese pharmaceutical companies still have a long way to go in the international market.
"So far, the majority of the exports are generic and raw materials. Increasing R&D strength and exporting innovative self-developed products cannot be achieved overnight," he said.