China's BYD beats Renault, Nissan in Brussels electric taxi bid
PARIS -- European Union officials in Brussels can now shuttle between policy meetings without burning fuel, thanks to a new fleet of electric-powered taxis made in China.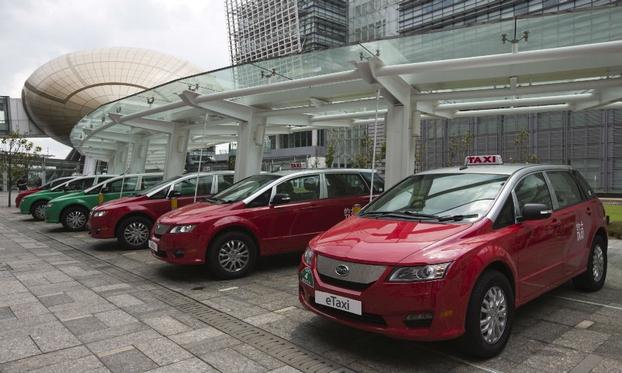 BYD has won a contract to supply EV taxis to the city of Brussels.

Shenzhen-based BYD Co. was the big winner of the city's first contract for emission-free taxis in the European Union's de facto capital, beating Renault and Nissan.

Of the 50-car order for battery-powered taxis, local operators bought 34 BYD e6 models, the Chinese manufacturer said in a statement.

"I'd rather have chosen a European brand than a Chinese one of course," Luigi Marrocco, chief executive officer of Taxis Bleus, one of the two biggest taxi companies in Brussels, said. "But when it comes to size, comfort and range, BYD was clearly above Nissan and Renault."

The deal is a blow for Carlos Ghosn, CEO of Renault and Nissan, who has struggled to find buyers for the group's Renault Zoe and Nissan Leaf electric vehicles.

For BYD, it's the biggest taxi order so far in Europe. The company has 20 taxis in London and a "small number" in Rotterdam, it said. BYD's e6 has a range of 300km, double the 150km that Renault's Zoe can drive before recharging.

Taxis Bleus, which operates 320 cabs in Brussels, bought 13 BYD e6 cars, one Renault Zoe and three Nissan Leafs, Marrocco said. He rejected Tesla Motors Inc.'s Model S as too expensive.

Four-year return
While the 48,000-euro (376,000 yuan) price tag for the BYD car is more expensive than conventional vehicles, the fuel savings offset the additional cost after four years, said Marc Debont, a spokesman for the Brussels regional government.

Bidding for operating the zero-emission vehicles was one of the few ways to gain new licenses in the city, where 1,300 taxis are in operation.

"We are delighted to have assisted in bringing these zero-emission BYD vehicles to our taxi fleet," said Pascal Smet, minister for mobility and public works in the Brussels region, in BYD's statement. "They will help contribute to our efforts to reduce air pollution in our city and of course to demonstrate to our citizens the value of electric vehicles."

BYD, which is partly owned by Warren Buffett's Berkshire Hathaway Inc., has a fleet of e6 taxis in Hong Kong.