China Manufacturing Management Forum 2012 successfully held in Suzhou
On July 6, 2012, China Manufacturing Management Forum 2012 was successfully held in Suzhou by e-works, the Chinese manufacturing on-line portal.
The forum was themed as "management-systems-based innovative enterprise". Nearly 500 CIOs, vendors, and experts attended the forum from 20 industries such as telecommunications, engineering machine, household appliances, hardware, automotive, bio-pharmaceutical, foods and drinks.
Dr. Pei Huang, the CEO of e-works delivered a speech on Chinese Manufacturing Transformation and Management IT Deepening Application and analyzed the current development status and trend as well as Chinese transformation situation. Dr. Huang pointed out that more and more Chinese manufacturing enterprises are walking from single enterprise to group and starting to make a countrywide or worldwide layout. Enterprises are accelerating mergers and acquisitions and transiting from imitating to innovating. Later Dr. Huang concluded 13 popular deepening applications in management information system including group management information technology, real time control and traceability in workshop etc.


Dr. Pei Huang, the CEO of e-works
13 famous vendors brought their latest technology, solutions and successful cases, which are SAP, Freudenberg IT, STAR-NET Security, Authine, BenQ Guru, EPICOR, ABAS, Tectura, Epichust, Safe-code, WingArc, Infor, and WIMS. Mr. Jinhong Zhou, SAP SCM Director introduced their latest computer technology, BI, and supply chain response management solution. Mr. Xiao Xu, GM of Freudenberg IT Business Department and Consulting Director focused on MES and supply chain optimization issues inside the enterprises and introduced their data collection, bar code system, equipment management, and quality management solutions. Mr. Zhang Xu, the Director of Industry Solution Consulting from STAR-NET Security introduced their network platform solution. Mr. Huawei Huang, the Director of Marketing from Authine introduced their BPM technology and its ecosystem.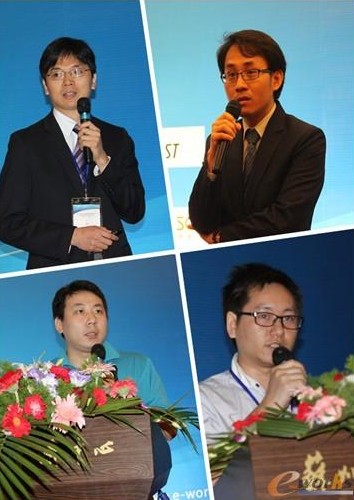 SAP, Freudenberg IT, STAR-NET Security, Authine vendors
Besides, 10 CIOs shared their IT application experience, including CIOs from Alcatel Lucent, Wuhan Aimin Pharmaceuticals Company, Nanyang Explosion Protection (Suzhou) Special Equipment Company, Changzhou Dongfeng Agricultural Machinery Group Company, Joyoung etc.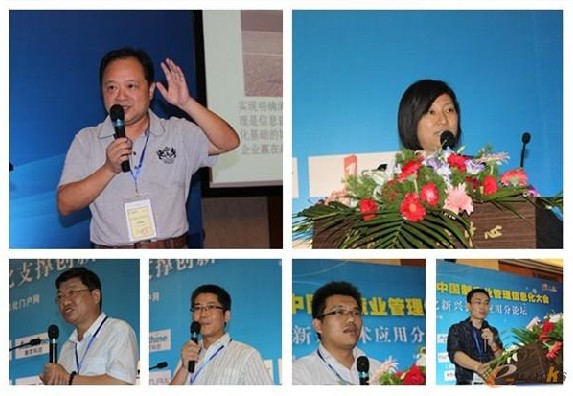 CIOs are sharing their IT applying experience
One heated discussion at the round-table conference is that whether manufacturing enterprises should cut IT investment facing the present sluggish economy. Finally the conclusion comes that IT investment is necessary, especially under the economic depression. Enterprises should rely on the IT solutions to increase efficiency and reduce the cost. Other heated topics including the "hollow phenomenon" in IT application, data quality issues, integration platform construction etc.

Round-table Conference
E-works has successfully held nine annual manufacturing management forums since 2004. Now it has been the most authoritative and influential conference in the industry around China. Recently, e-works launched VIP services and enterprise services for individuals and enterprises to better understand management information technology and system. VIP services include individual knowledge customization, IT capability test, online study, and training etc. Enterprises services include knowledge customization, solution selection support, online evaluation, planning appraisal, project application, and talent recruitment etc.