Momentum for Climate Action In the Process Industries
Achieving global sustainability goals will be challenging, but digital technologies and Industrial AI can help.
COP26, the annual United Nations climate change conference, began with high expectations. Individuals emerged from the isolation of COVID-related restrictions and re-engaged on a global platform with renewed urgency toward environmental topics.
While the results from COP26 may not be as ambitious as many had hoped, there was still significant progress included in the final agreed resolutions. Key developments include plans for international standards for sustainability reporting, renewed commitment from rich countries to provide funds to developing economies, and planned development of a global carbon market.
In a recent op-ed, US climate envoy John Kerry praised the public-private cooperation at COP26 and noted the key message, "It was an important breakthrough, if we can follow through on it." Crucial targets emerging from COP26 include 45% in global CO2 emissions by 2030 and a phase down of coal development and government-sponsored fossil fuel subsidies.
Making progress toward new sustainability targets will be a crucial activity for companies in the process industries. For some, they are impacted by the updated commitments made by the countries where they operate. As countries define plans for the next few decades, referred to as nationally determined contributions (NDC), local companies must also comply with newly established targets. Goals set for 20 to 30-year horizons are relevant for major assets being planned and built today.
Importantly, updates to NDC plans will now move toward annual reporting following COP26, instead of 5-year updates previously, to move toward more demanding national targets.
Many companies are making plans to lower emissions and waste while also developing and evaluating new technologies to meet sustainability targets. As confirmed in a recent AspenTech survey on sustainability initiatives, 78% of companies believe that CO2 reduction plans will provide a competitive advantage.
Now that the target setting has been done, execution toward those goals is required. Increasingly, financial markets are expecting targets and will begin to demand progress toward aggressive climate action goals. Speaking at COP26, the Deutsche Bank CFO emphasized that "[Companies] need to demonstrate credible performance with interim checkpoints. You can set 2050 goals, but we must see progress by 2030, 2035, or it is greenwashing."
Companies need to align goals with plans, says McKinsey, "Net-zero commitments are outpacing the formation of supply chains, market mechanisms, financing models, and other solutions and structures needed to smooth the world's decarbonization pathway."
Digitalization's role in hitting sustainability targets
Digitalization is an important tool to help companies move quickly to meet increasingly urgent sustainability goals for their companies, and the countries where they operate. For example, digital solutions can help organizations more easily integrate data from isolated systems to a centralized location, providing insights to drive improved business decisions for sustainable operations. This visibility of emissions data can reflect the impact of operational decisions and be a pathway to change behavior.
Better visibility can be extended beyond localized operational activities and energy sourcing to include others in the industry value chain. The engagement is enabled by visibility of both company operations but also linking through the supply chain to first optimize, and then potentially redesign, processes to meet demanding emissions and waste reduction targets. It is this integration across the value chain that can drive significant progress. According to Antonia Gawel at the COP26 EU side events forum, Climate Action lead at the World Economic Forum, "If we want to move fast, we have to move together. I cannot say I am green if I have left my supply chain behind."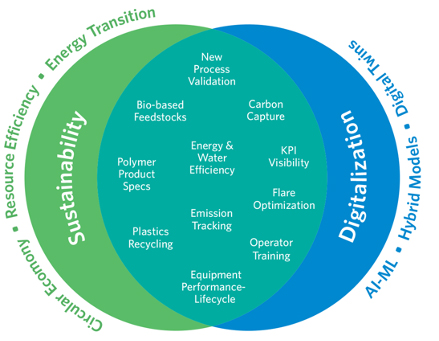 Understanding the overlap between sustainability and digitalization; Source: AspenTech
Additionally, digitalization further enables organizations to assess and analyze multiple process simulations in parallel by creating variations of original simulation models, known as digital twins. These detailed simulations provide new levels of operational excellence through enterprise-wide insights that drive improved business and sustainability operations. Artificial intelligence (AI) can provide additional sophistication by increasing the level of prediction accuracy in the models that enhance safety, reliability and intuitiveness of the processes.
These models can be used as an alternative to a sensor and testing approach to track emissions of CO2 and other pollutants. The combination of process data and simulation tools provide the means to convert the information captured in the process databases into applied process knowledge. This enables companies to mitigate the faulty analyzers and accurately estimate the emissions of the whole plant, including the non-measurable emission points ensuring plant-wide emissions compliance to increasing regulations.
The growing understanding and recognition of the importance of carbon mitigation is becoming clear at governmental, community, investor and industry levels. The integration of sustainability targets with business goals will be transformational. Companies have begun to acknowledge the need for action to reduce CO2 emissions and waste into the environment, and many see it as a significant threat.

Impact of sustainability on key business initiatives across industries; source: AspenTech Sustainability Survey
Achieving the fragile balance of sustainability goals—equally considering people, planet, and profit— is a considerable challenge for organizations, but one that must be addressed to be competitive in the markets of today and tomorrow. Digital technologies and Industrial AI are critical capabilities that will separate market leaders from niche players of the future.

Paige Marie Morse helps companies progress toward their sustainability targets providing strategic guidance and targeted digitalization solutions to the process industry. Prior to AspenTech, she worked for leading operating companies, including Shell, Dow and Clariant, in R&D, marketing, commercial and strategy roles in the US and Europe. Paige holds a BA from Kenyon College and a PhD in chemistry from the University of Illinois.