Intl optoelectronic expo jolts open in OVC
The 18th Optics Valley of China International Optoelectronic Exposition and Forum kicked off on Oct 27 in the East Lake High-tech Development Zone (also known as Optics Valley of China) in Wuhan, Central China's Hubei province, and will last three days.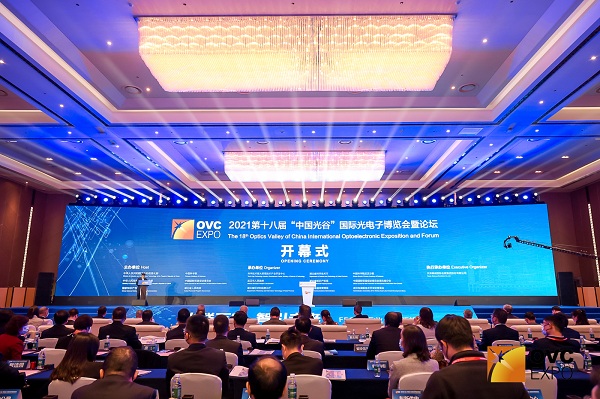 The opening ceremony of the 18th Optics Valley of China International Optoelectronic Exposition and Forum. [Photo/OVC Expo]
Taking place at the local convention and exhibition center, the 20,000-square meter expo has three themed display zones - optical communications and fifth-generation fixed networks, lasers and intelligent manufacturing and optics and precision optics.
More than 300 domestic and overseas companies, including Huawei, Nokia and Yonyou, are set to showcase their new products and technological achievements in optoelectronics to an estimated 20,000 professional visitors over the three-day period.
A total of 27 major projects worth 30.6 billion yuan ($4.8 billion) were signed at the expo on Wednesday alone, including lasers, semiconductors, AI, quantum information and more.
The buying groups involve major players such as Hisense, Haier, CNOC, Sinopec and the Chinese Academy of Sciences, with the aim to leverage optoelectronics technology to boost their business.
The event also serves as a platform for industrial exchange, as it has arranged one themed summit forum, three industrial exchange summits, 18 technological conferences and nearly 300 lectures.
Optoelectronic information is OVC's pillar industry, with more than 1,000 related companies that together generate nearly 600 billion yuan in annual income.
The expo is organized by the Ministry of Industry and Information Technology, the Ministry of Science and Technology, the National Intellectual Property Administration, the China Council for the Promotion of International Trade, and the Hubei People's Government.
Since 2002, the expo has attracted more than 5,400 exhibitors from over 30 countries and regions, as well as nearly 550,000 professional visitors.