There's steely resolve for green growth now
Low-carbon tech, R&D and pursuit of high-quality development spur new steelmaking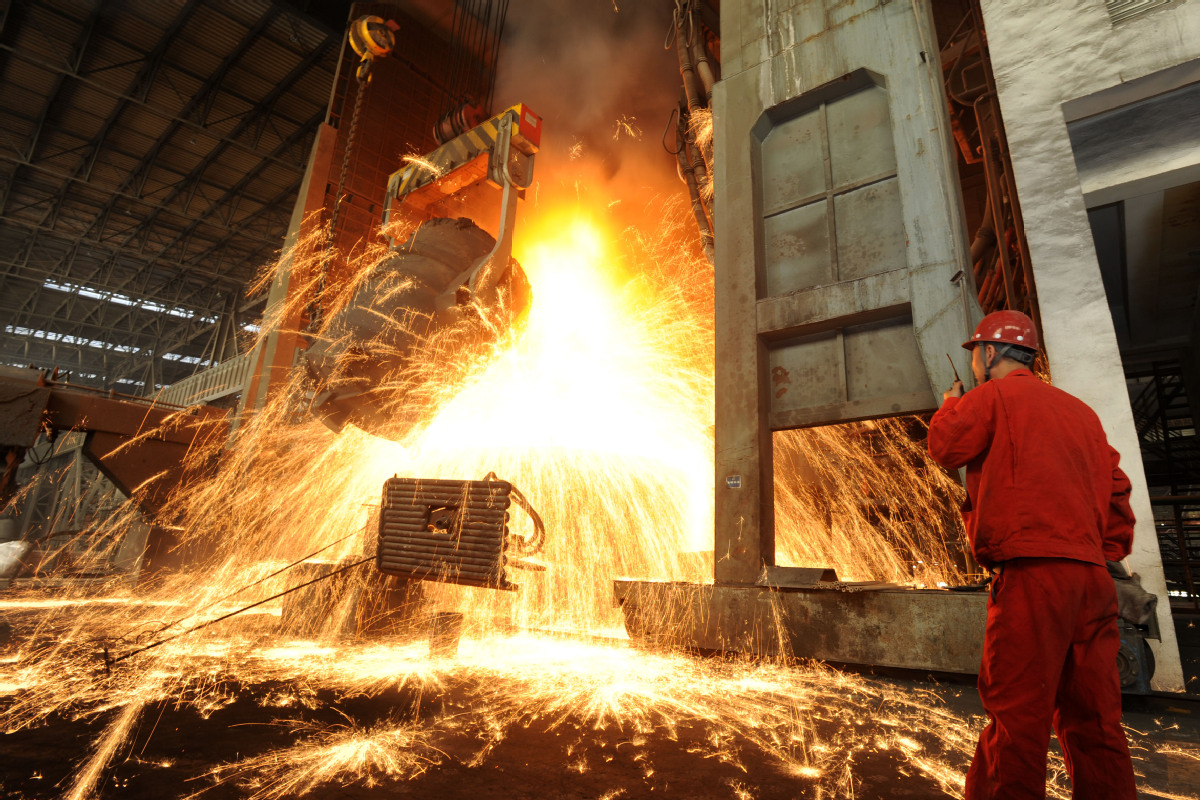 A worker issues instructions on his wireless set during the steelmaking process involving an electric furnace at Dongbei Special Steel Group Co Ltd in Dalian, Liaoning province. [Photo by Liu Debin/For China Daily]
Low-carbon tech, R&D and pursuit of high-quality development spur new steelmaking
As China endeavors to peak its carbon emissions by 2030 and achieve carbon neutrality by 2060, the country's steel industry, one of the main carbon emitters, is undergoing a new round of technological innovation and operational reforms.
Green change is visible in both the private sector and State-owned enterprises. This is expected to further the industry's contribution to China's quest for high-quality development.
On April 22, the China Iron and Steel Association, whose members are the country's major steel mills, set up a Steel Industry Low-Carbon Promotion Committee to lead efforts aimed at reducing carbon emissions.
The committee comprises experts from universities, research institutions, steel enterprises, engineering firms and construction companies. Their mandate is to research and develop carbon emission reduction technologies as well as to standardize criteria for related issues.
Its main tasks also include promoting low-carbon technologies and advancing the steel industry's efforts for green development and carbon emissions reduction, said Luo Tiejun, vice-chairman of the CISA.
"The industry has already been strengthening efforts for carbon emissions reduction and low energy use since a few years ago, and such endeavors provide a firm basis for new efforts to achieve the new carbon goals," he said.
Many steel companies, including central State-owned, private, and regionally leading ones, have already been investing heavily in R&D of new technologies, he said. Industry insiders said because the majority of Chinese steel enterprises use blast furnace method of steelmaking, which relies on carbon as fuel and agent for iron ore reduction, it is imperative that they upgrade their production technologies and optimize processing procedures to reduce carbon emissions.
Alternatives include adopting short-process electric furnace steelmaking, increasing utilization of recycled or new raw materials and clean energy resources such as scrap steel and hydrogen, and reducing carbon emissions during transportation.
Shao Zikai, an analyst at consultancy firm Shanghai Ganglian E-commerce Holding Co, said in a note that the steel industry should strictly curb crude steel output to control carbon emissions and thus achieve carbon emissions peak by 2030.
To realize the carbon neutrality goal, measures like carbon capture, utilization and storage, using electricity in production, raw material structure optimization, and energy efficiency improvement are also very important, he said.
"The carbon emissions per ton of steel produced by blast furnace are about 2 metric tons, and that of electric arc furnace is about 0.8 ton," he said.
"Vigorously promoting electric furnace steelmaking can help achieve the carbon neutrality goal."
According to Wang Guoqing, director of the Lange Steel Information Center, the production process contributes the largest share of carbon emissions in the steel industry. Based on current technological prospects, short-process electric furnace steelmaking has been widely promoted by both central and local authorities.
At the same time, steel mills capable of big-ticket investments have started tapping the potential of hydrogen metallurgy, an emerging technology that applies hydrogen instead of carbon as a reducing agent to reduce carbon dioxide emissions, she said.
One example is Beijing Jianlong Heavy Industry Group Co Ltd, or Jianlong Group, one of China's largest private steel enterprises.
Just prior to the establishment of the committee, on April 13, China's first hydrogen-based high-purity pig iron production line, which uses hydrogen as an energy vector and a reducing agent to reduce pig iron from iron ore, went into trial operations in the Inner Mongolia autonomous region, after 16 months of construction and with a total investment of about 1.09 billion yuan ($170 million).
Installed at Inner Mongolia Sesp Technology Co Ltd, a subsidiary of Jianlong Group, the plant is designed to have annual production capacity of 300,000 tons of pig iron from hydrogen-based smelting and reduction.
Smelting and reduction is a new steelmaking technology, an alternative to the blast furnace method, that overcomes certain fundamental problems in the latter, like dependence on large-scale operation and reliance on coking coal.
On the first day of trial operations, the plant produced 156 tons of pig iron. It is designed to use 10,000 tons of hydrogen for iron ore reduction annually, reducing carbon dioxide emissions by 112,000 tons per year.
Zhang Zhixiang, chairman of privately held Jianlong Group, said the plant is the world's first industrial-scale application of hydrogen metallurgy.
"Our ultimate goal is to replace carbon completely with hydrogen in steelmaking as a reduction agent."
Compared with the traditional blast furnace method that uses coke as fuel and agent to reduce iron ore, the hydrogen-based production process can lower the emissions of sulfur dioxide and nitrogen oxide by 38 percent, cut the emissions of dust by 89 percent, and discharge no dioxins and phenol cyanide wastewater.
Moreover, pig iron plant products are of greater purity, and exceed standard requirements for ultrahigh purity pig iron established by the Ministry of Industry and Information Technology.
"We plan to apply the production line in our other subsidiaries, and then promote the technology nationwide to gradually replace blast furnace with the working volume of under 1,000 cubic meters," Zhang said.
Jianlong Group and several scientific research institutions, including the University of Science and Technology Beijing, codesigned the first generation of the hydrogen-based iron ore smelting and reduction production line, on the basis of some new technologies from home and abroad. All the key equipment and components are made in China.
The company also plans to start R&D on the second generation of the technology within the year, as well as to open a second hydrogen-based smelting reduction iron-making plant then.
Apart from Jianlong Group, some other enterprises are incorporating hydrogen into their corporate development strategies to reduce their carbon footprint.
State-owned China Baowu Steel Group, a top Chinese steelmaker, bought 60 heavy-duty hydrogen-powered trucks as part of a trial to test hydrogen as a fuel in logistics at the end of 2020. It hopes to reduce carbon emissions from the steel production and transportation chain.
It also plans to build about 100 hydrogen refueling stations within the next 10 years.
HBIS Group Co Ltd, another Chinese steel giant, based in Shijiazhuang, Hebei province, said it expects to have hydrogen metallurgy capacity of 3.6 million tons by the end of the 14th Five-Year Plan period (2021-25), and plans to use wind, solar and other renewable energies to electrolyze water to produce hydrogen.
The company has built the world's first pilot project for direct reduction of iron ore by hydrogen-rich gases in Zhangjiakou, Hebei province, which also adopts new technologies for distributed green energy application, low-cost hydrogen production and carbon dioxide removal.
Wang said steel enterprises, which take a lead in moves such as technological innovation and capital investment to reduce carbon emissions, will be well-positioned to upgrade their steelmaking and corporate operations, to meet the expected industrial and national compulsory requirements on carbon emissions under the carbon goals.
That means, those visionary enterprises will have a better position in market competition, which will likely help the most progressive companies to pursue excellence, and thus improve the performance of the whole industry, she said.
Huang Dao, deputy secretary-general of the CISA, also said it is good for the whole industry to optimize layout and upgrade. China's steel enterprises have taken certain initiatives to reduce carbon emissions, which can become a driving force for the whole industry.
This can advance technologies and enable businesses to survive based on orderly market competition, he said.
However, he also expressed concern over unfair competition, and said it is necessary to study policies to promote the healthy development of the industry while speeding up carbon emissions reduction.