e-works successfully organized the 7th American "smiling" Industrial Innovation and IoT delegation to the US
On November 5, 2018, e-works successfully organized the 2018 American Industrial Innovation and IoT delegation to US.
On November 5, 2018, e-works successfully organized the 2018 American Industrial Innovation and IoT delegation to US. It is the 7th delegation hosted by e-works. The tour began in San Francisco, and move forward to Houston in the south, Greenville and Charlotte in central south , and New York in the east. These cities join together, compromising a "smiling" journey.
During the 10 days, the delegation visited Autodesk, Ayla Networks, Stanford University, Esgyn, GE Digital, AMD, Cisco EBC, Eaton Electrical Experience Center, Space Center Houston, and the GE Gas Turbine Plant. The exploration has yielded fruitful results.
The first stop was Autodesk Gallery in downtown San Francisco. The delegation members saw innovative products developed by Autodesk customers from various industries and gained a deep understanding of Autodesk's future of Making Anything. Later, the delegation also looked at the creative workshop of Autodesk design and manufacturing at Pier 9 in San Francisco. There are a variety of processing equipment that support Maker's new product development testing, including a variety of 3D printing equipment, metal cutting, cutting and wood processing equipment, as well as a professional consulting team. Start-up companies can apply for registration, get approved, stay for free, use the various equipment in the center, and quickly turn their ideas into reality.
The second stop was Ayla Networks in Santa Clara, San Francisco Bay Area. Founded in 2010, Ayla Network provides the world's leading enterprise-level IoT cloud platform. David Friedman, Co-founder and Chairman of the board of directors, enthusiastically hosted our delegation and told the startup story and growth of Ayla Networks, which provides a global IoT cloud platform with architecture combined with cloud services, embedded IoT devices and mobile applications. It will be easier and more cost-effective for OEMs to connect devices to the Internet. Ayla Networks established a Chinese branch in Shenzhen in 2014 and entered the Chinese IoT market. Currently, it has established cooperation with many Chinese companies including TCL, Hisense, DEVOTION, Ozner Water Purifier, Midea, and Chigo.
Later the delegation visited Stanford University, which covers an area of 35 square kilometers. Stanford University is the second largest university in the United States. Stanford University has trained a number of high-tech company leaders and entrepreneurial talents, including Founders of HP, Google, Yahoo, Nike, Logitech, Tesla, Firefox, EA, Sun Microsystems, NVIDIA, Cisco, Silicon Valley Graphics and eBay. Its alumni include 30 wealthy entrepreneurs and 17 astronauts. It's also one of the universities that has trained the most members of the US Congress.
The fourth stop the delegation came to Esgyn, a global leader in distributed database technology. Esgyn has a long-standing commitment to the development and application of distributed databases, with R&D and operations centers in Guiyang, Beijing, Shanghai and Silicon Valley. Dr. Ding Hong, Co-founder and CEO of Esgyn, introduced the history, cases and solutions of Esgyn. Esgyn DB can support massive amounts of concurrent data and is widely used by leading companies in the financial, telecommunications, manufacturing, energy, electronics and medical industries. Their typical customers include State Grid, China Unicom, JP Morgan, and Foxconn.
After that, the fifth stop was GE Digital headquarters in San Ramon, east of San Francisco. Mr. Karthik Suri, COO and senior leaders of GE Digital warmly received the delegation. Karthik introduced GE's digital transformation and the growth of GE Digital. GE Digital has grown from a team of 200 people in 2011 to more than 20,000 employees. Along the development from GE For GE, GE for customers to GE For World, GE Digital built Predix, the world's most influential industrial Internet platform, providing solutions for device performance management, operations performance management and on-site service management. Mr. Ganesh Hedge, GE Digital's Director of Product Marketing introduced the vertical, horizontal and end-to-end integration of Industry 4.0, and explained the integration of the GE Predix MES system with the Industrial Internet platform. Mr. Ateet Jayaswal, Vice President of Organization and Talent Development shared the transformation of corporate culture and talent development strategies in the evolution of GE Digital.  
The sixth stop the delegation came to AMD, a chip design manufacturer. AMD designs and manufactures innovative microprocessors (CPUs, GPUs, APUs etc.) for the computer, communications and consumer electronics industries, as well as providing flash and low power processor solutions. AMD is also the only manufacturer of x86 chips in addition to intel. The delegation visited AMD's showroom and experienced the high performance of AMD's latest processor RYZEN . John Hampton, Director of Global Business Development of AMD, introduced the development history and mainstream products and technologies of AMD to the delegation and discussed various problems in the industry.
The seventh stop was the Cisco Executive Briefing Center (Cisco EBC). John Xu, Industry Development General Manager, Commercial Marketing of Greater China hosted the delegation and gave a speech on Cisco's history, major product lines and the future trends of five major technologies. Cisico's engineer Danny Hawawini then present a collaboration demo using the latest product Webex to show a scene of future collaborative office.
Then the delegation went to Eaton Electric Experience Center Houston and took a closer look at the innovation of the global power management giant. Eaton Electric has eight experience centers around the world, and Houston is one of them. It receives 100,000 professionals to train and study every year. Eaton Electric is a Fortune 500 company with more than 100,000 employees and a turnover of $20.4 billion in 2017. It operates in 175 countries and regions to help customers manage electrical, hydraulic and mechanical power. First, Amber White introduced Eaton's products and solutions; then Jimmy J. Guerrero introduced the hazards of Elextrical Shock and Arc Flash in a live working environment and the precautions. Finally, Eaton engineer Jessica Jordan introduced the development trend of data center in the 5G & IoT era . 
After that was NASA Johnson Space Center. The delegation members took a close look at the flight control center of the Johnson Space Center, the Astronaut Training Center and the Saturn IV rocket. The NASA Johnson Space Center is located on the west bank of Lake Clear, Texas, approximately 40 kilometers from downtown Houston. There are more than 140 buildings of various sizes in the center, which house various equipment and facilities for space activities and applied research.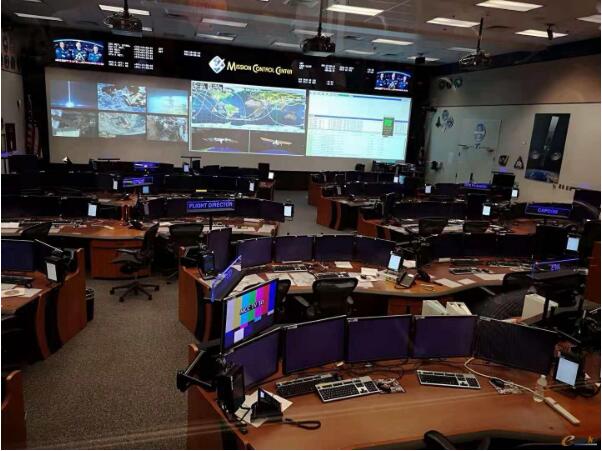 Later the delegation entered the GE gas turbine plant in Greenville, South Carolina. Mr. Alex Pringle and Ms. Felicia Long introduced the Brilliant Factory of GE gas turbines. The plant started operation in 1968 and now has more than 3,200 employees, covering 112,000 square meters and has became the world's largest gas engine plant. Subsequently, Mr. Mike Roseberry led the delegation to visit the factory. He has been working here for 18 years. The factory has 1.5 million square feet and 2,200 employees. It can produce 200-300 gas turbines each year. Many of the products being manufactured here will be delivered to Chinese customers, such as the largest 9HA.02 gas turbine. It can power 600,000 homes. Mr. Harold will Moore led the delegation to visit the combustion laboratory. In the afternoon delegation also visited AWV (Advanced Manufacturing Center), which was established to verify digitization and 3D printing technologies. It is also a smart factory model.
In the 10 days, e-works delegation members explored the true meaning of industrial innovation and IoT applications, and learned innovative spirits of advanced manufacturing companies in the United States, as well as the best practices of Internet of Things. It was a great success.
For more details of the event, please visit:
http://www.e-works.net.cn/report/201810usa/usa.html