Is Internet TV next wave after smartphones?
Smart Internet televisions are already storming the market and tearing away young users from mobile phones and tablets, industry experts say.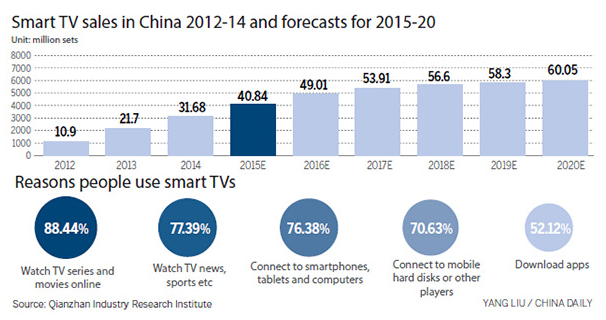 Internet TV that works like a smartphone in mega-size may be the next big thing and there is no shortage of manufacturing and software firms trying to capture those eyeballs in China.
At stake is a hardware market that tripled in two years to 31.7 million sets sold in 2014, and is expected to leap to 40.8 million this year and 60 million annually by 2020, according to the Shenzhen-based Qianzhan Industry Research Institute.
As televisions connect directly to the Internet and use sophisticated chips and software to stream games, movies and even classes, a sea change is expected by the young away from smaller-screen PCs, tablets and smart phones. While some might worry that all of this electronic interaction creates a generation of Internet TV zombies, Cai Zhiyang is not among them.
Cai wasted no time in clicking "pay" button just after the stroke of midnight on Nov 11 on Alibaba Group Holding Ltd's Tmall platform to buy a 55-inch smart TV for 3,799 yuan ($595), a 25 percent discount.
"For me, television is still a household necessity because it makes me feel like being home when the whole family sit together watching TV," the 28-year-old newlywed said, adding that he can't wait to put the new set in the living room of his wedding house.
"Smart TVs are linked to the Internet and open for a variety of entertaining app downloads just like smartphones and tablet PCs. Why not choose a bigger screen?"
Beijing-based data analysis company All View Cloud said the latest Singles Day, as the Nov 11 online sale is known, saw 80 percent of all televisions sold as smart models.
Manufacturers and industry watchers said the shift is well underway with the search on for new business models as the days of just selling television sets become tougher on the bottom line.
"Consumer electronic manufacturers are in fierce competition as the growth of domestic market has slowed down. The profit margin of making and selling hardware only is getting thinner and thinner, which can't support an enterprises' sustainable development," said Hu Xuejun, deputy general manager of a domestic sales company under TCL Multimedia Technology Holdings Ltd.
That means looking at software, content and new advertising methods and figuring out what will sell and who to work with in development.
"Internet companies save costs by selling their products online and acquire sustainable revenues by updating the application services," said Liu Xuran, an analyst at Qianzhan Industry Research Institute.
"Television makers need to build a complete industry chain that includes hardware manufacturing, content production and integration of apps."
Still, the market is young and traditional TV makers are also stretching into smart TVs, helped by existing facilities and supplier networks.
"Traditional television manufacturers are able to integrate resources along the industry chain to build an ecosystem for smart TVs," Hu said.
"But Internet companies' creative practices such as online direct sales, fan economy and content integration are worth our learning."
As well, both traditional TV manufacturers and Internet companies are faced with the challenge of improving smart TV user experiences.
That can include providing the right, or new, tools for smart TV couch surfers.
"Most of the apps on smart TVs are transplanted from those on mobile phones. It is not so convenient to handle these apps with a TV remote control as on the mobile phone's touch screen," says Liu, the analyst.
Getting customers to pay for content often free on the Internet may be a challenge, though services that charge customers for music and movies on demand have found niches.
But several firms see a form of convergence between shopping, entertainment and education that, for now, provides a way forward.
One company already in the space is TCL Multimedia Technology parent TCL Corp, based in Huizhou, Guangdong province. It sets up China Star Optoelectronics Technology in Shenzhen in 2009 and thus became the only consumer electronics manufacturer in China that makes liquid crystal display panels and smart TVs.
To bolster its offerings, TCL partnered with Tencent Holdings Ltd, and Open Edutainment, a provider of distance education.
It has also worked with Sichuan Changhong Electric Co Ltd in 2009 on a venture called Huan.tv, now one of the biggest Internet smart TV service providers in China.
And this year, TCL worked with China Research Institute of Film Science and Technology to enable users of GoLive TV, a video-on-demand system developed by TCL, to watch a movie playing at a cinema at home.
"Our goal is to increase profits from providing content and services to 50 percent of the corporation's income in five years," Li Dongsheng, chairman and CEO of TCL Corp, told China Daily at the TCL Global Partner Conference 2015 held in Kunming in October.
Other firms exploring such spaces include Shenzhen-based Skyworth Digital Holdings Ltd and Shandong-based Hisense Group.
Yang Dongwen, president of Skyworth, agrees that smart TV needs a better design of the user interface than a remote control, especially compared to the touch screen and camera on mobile phones, or the mouse, keyboard and camera on PCs and available to tablets.
"Smart TV will be the core of smart home in the future. The key to playing its leading role is to develop a killer app like a browser for a PC and WeChat for mobile Internet," Yang said during a speech at an IT forum in Shenzhen in April.
In the case of Skyworth, it has developed its own operating system, bypassing the usual Android one used by most makers. Internet enterprises such as LeTV Holdings Co Ltd, China's major online video company, and Xiaomi Corp, have also joined the competition for a share of the tempting smart TV market.