Five very cool 3-D printers from the Inside 3D Printing Expo
Vendors broke new ground in practicality and affordability with these 3-D printers.
The marketplace for 3-D printers and services has seen real growth, but in many ways the hype still outpaces the reality. While some companies have deployed 3-D printers, it appears that it's not being used for large-scale manufacturing.
But in areas where 3-D printing has made a foothold -- include prototyping, architectural design, and the manufacture of smaller batches of parts, particularly ones that are small or unique in some way -- it has become an essential part of the business process.
Academia and medical researchers have also been a prime market as 3-D printers prove ideal for building models and individually tailored parts.
One thing that 3-D printing has always had in abundance is a legitimate gee-whiz factor, which was fully on display at the cavernous Javitz Center in New York City during the recent Inside 3-D Printing Conference and Expo. The show attracted thousands of users, potential customers, academics, investors, and students, all eager to see the latest and greatest offerings from the world's leading vendors of 3-D printers. From bike frames to human jawbones, they got their fill, as it appears there now are few things that cannot be produced by a 3-D printer.
Here's a look at five of the coolest and potentially most useful products displayed at the show.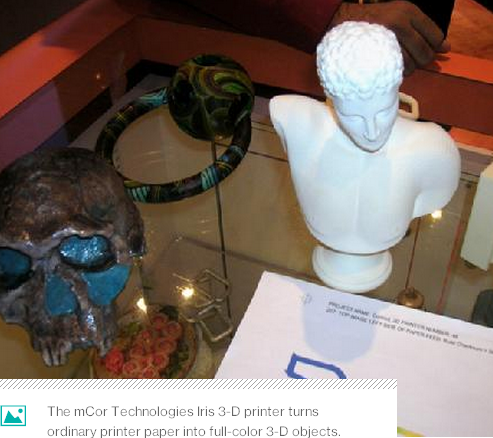 Based in Ireland, mCor Technologies boasts one of the most unusual and promising approaches to 3-D printing. It demonstrated how its Iris printer can take a standard ream of printer paper (three reams, to be exact, for a typical print job) and turn it into a complete, true-color 3-D image. The advantages are lower cost and maintenance, quick project turnaround, and environmental sensitivity (all the components used to make the product are recyclable, including the water-based inks and adhesives that bind the sheets together). This means that designers working on a project can make dozens of prototypes and responsibly dispose of the unneeded ones. Cost-conscious architectural firms, medical researchers and especially academic institutions might take a good hard look.
MarkForged. Strength and flexibility were on display with Massachusetts-based MarkForged's Mark One carbon-fiber 3-D printer. The compact machine spins filaments of carbon fiber, Kevlar, fiberglass, and nylon together to produce parts that can be stronger than metal yet lightweight, flexible, and extremely heat resistant. The filaments can be used separately or combined, depending on the nature of the part. Aerospace, automotive, medical, apparel, and many other manufacturers could find the Mark One useful.
Aleph Objects. Lulzbot is a line of desktop 3-D printers from open-source hardware company Aleph Objects of Loveland, Colo. Lulzbot printers are an attractive option for designers on a budget who want to create lower-cost prototypes. Quality does not suffer however, according to the vendor, and the open-source model allows users to take advantage of the latest improvements in the 3-D printing industry, including design software and experimental materials.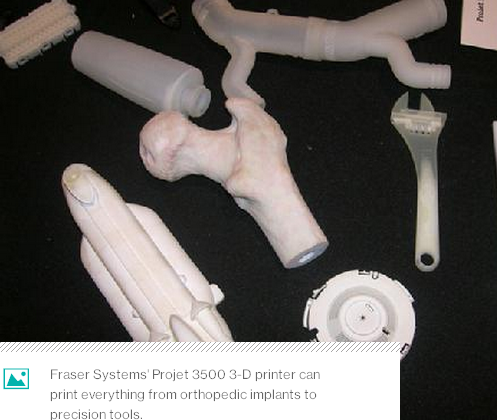 Fraser Advanced Information Systems, based in Pennsylvania, showed several of its high-end industrial 3-D printers. They can produce parts in metals and ceramics and the fineness of detail allows you to create very small precision parts. Parts on display included dental prostheses, orthopedic implants, aerospace parts, and precision tools. The printers can build parts that might otherwise be impossible to duplicate. Comedian Jay Leno, for example, uses a Fraser Systems printer to make parts for his antique cars.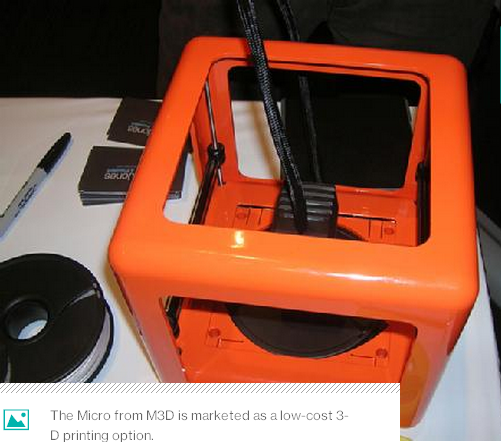 M3D, a Kickstarter-funded firm out of Maryland, showed one of the smallest and least-costly 3-D printers. The Micro, an approximately seven-inch cube, is designed for ease of use. Images can be downloaded or created natively, then sent to the printer and -- presto! --the design becomes reality. The cubes come in a variety of colors and have been designed so that components such as pin beds and nozzles can be replaced easily. This could be one 3-D printer that aims squarely at the consumer market and hits the target.