What is the viable business model of IIoT in China? What is the future trend? This article will give you some insights.
Industrial IoT (IIoT) has become a buzz word in China after recent years of increasing promotion and adoption. It is seen to hold numerous promise. Several related topics arealso frequently talked about—the industrial IoT platform (especially the interdisciplinary cross-industry platform), industrial IoT +5G, industrial IoT identity resolution system, industrial IoT applications, and "financing race" among the vendors. But what is the viable business model in China? What is the future trend? This articlewill give you some insights.
1. Connectivity of "things" should be highlighted
Although hundreds of IIoT vendors have emerged in China, there is still a lack of clear business and profit model. One of the most important reasons is the misunderstanding of the core of industrial IoT.
The core of industrial IoT is to connect all sorts of "things", including fixed or mobile devices or equipment in the factory floor, in transit or in use to enable traceability, remote control, and fault early warning. Based on this an enterprise can create a smart factory or provide smart services. In fact, the purpose of establishing an identity resolution system of IIoT is to create a unified coding system for various "things". Applications that do not involve "things" but only deal with collaboration or business management issues between people or within/between enterprises are not the domain of industrial IoT but the concern of industrial software or industrial e-commerce platform.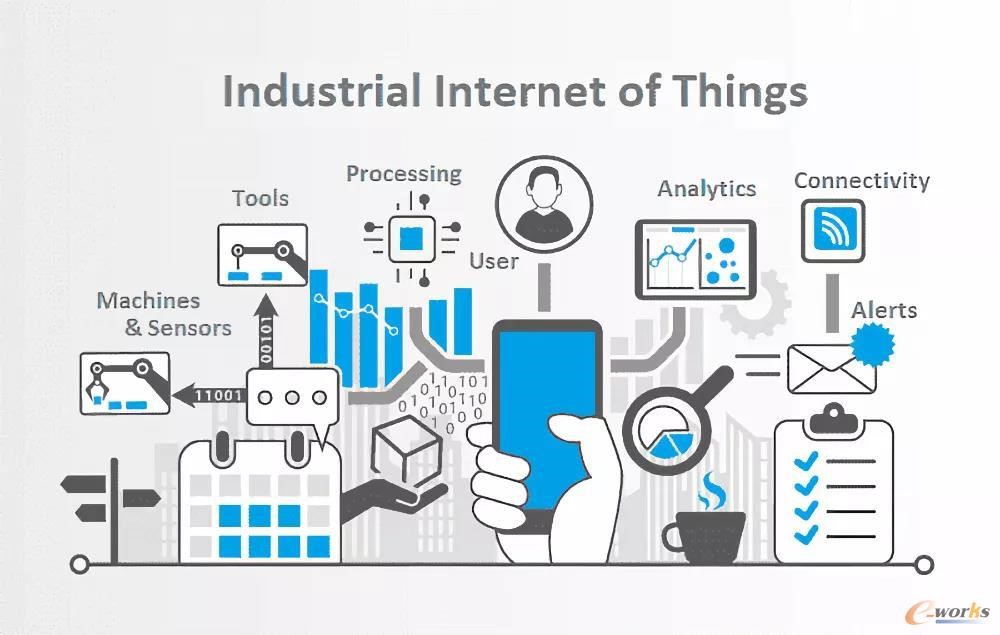 Source: connectingindustry.com
2. Meeting market needs is essential
Although IIoT has already become a buzzword, the truth is that enterprises will select the platform based on their specific issues and actual requirements. For example, during the in-service period of water, electricity, gas, and thermal energy infrastructures, it is crucial to monitor the key data to avoid failure and accidents and ensure the safe operation so that thousands of families and enterprises can be free from interruptions. Elevators and other equipment related to personal safety need close monitoring, while consumer products need focus on identification and production traceability. Some equipment manufacturers hope to use the remote monitoring to improve their aftersales service and spare parts sales. While some other enterprises may pay more attention on data acquisition and connection of the key equipment in shop floor to avoid unplanned downtime and build a "transparent factory" with high performance and productivity.
So far, there are not many enterprises in China that specially do the technology selection alone for the IIoT platforms. For enterprises, it is a business management issue and they just need to pick out an application software or platform and integrate with the system. As for the type and name, they care little. What customers need is actually a solution provider or a partner that can solve their real problems quickly and accurately, not just a product. Therefore, for providers it is important to improve the performance and low-code development ability of the platform itself. But another more important thing is to develop and integrate different APPs for specific industries and application scenarios. By collecting and integrating data from various kinds of "things", can it realize data visualization, analysis and operation optimization.
3. Industrial IoT is one of the key infrastructures in driving digital transformation
Just like the capillary, industrial IoT, as an infrastructure connected to the various "things", links all kinds of devices at the edge with the intranet. If remote motoring of the onsite "things" or collaboration between enterprises is needed, the "things" will be connected to the "main artery"—internet. Enterprises need to collect data accurately and efficiently on the basis of their business requirements so as to realize data-driven business process and decisions. That's also the reason why digital transformation has become the focus of enterprises all over the world.
To maintain and enhance competitiveness under uncertainties is a constant topic in different industries. Many enterprises are achieving this goal through moving towards digital transformation and industrial IoT is one of the key infrastructures and enabling technologies in the course.
4.The trend towards new industrial software keeps evolving
The concepts of software-defined product, software-defined data center, software-defined automation, industrial technology as a software, and software-defined manufacturing have been gradually accepted in China. Chinese attaches great importance to the development of industrial software industry, especially the development of industrial basic software that supports product engineering, processing and production. At the same time, the leading industrial automation vendors are penetrating into the industrial software market through heavy investments in M&As and R&D or building an ecosystem or partnership with industrial software companies. Siemens, GE, Schneider Electric, Rockwell Automation, Emerson, ABB, Mitsubishi Electric and Honeywell have launched their IIoT platforms.They put more emphasis on functions of MES/MOM, asset performance management, operation performance management, SCADA, energy management, process analysis and simulation and are focusing on heavy equipment industry.
For China's industrial IoT suppliers, especially the platform developers and operators, the message is that in the future they should gradually evolve into the IIoT and Micro-service-based industrial software solution providers and develop more industrial APPs to increase competitive advantage over traditional industrial software vendors.
Only in this way can they meet the needs of customers and help them realize the IoT related business management and control requirements. The early stage of the IIoT market is mainly policy-oriented and technology-oriented. In the future, it will be market-oriented and application-oriented.
5. Stay Industry-focused and build deepexpertise
There are great industry differences in applying industrial IoT technology. For example, the requirements vary considerably among process, hybrid manufacturing, and discrete manufacturing industries.
Process industry is highly dependent on automation equipment and continuous production, so it is important to ensure the safe, reliable, and efficient operation of the equipment. Thedisposal of industrial waste, especially in dangerous chemicals enterprises is also very important. Besides, the real-time monitoring of the key production, detection, and power equipment, fault early warning, and energy conservation and emission reduction are also the great concern of the industry. For food and beverage, pharmaceutical, and other hybrid manufacturing industries, thesupervision agencies have the regulatory requirements on monitoring and traceability. Therefore, more attention is paid to the collection and analysis of production data, product ingredients, formula and quality data, as well as the anti-counterfeiting and traceability. While in discrete industry, the small batch and multi-variety production pattern highlights flexible automation, efficient scheduling, quality inspection, OEE, on-time delivery, and tool life time. Due to the low rate of equipment data acquisition and workshop connection, it is urgent to realize equipment interconnection and production visualization in discrete industry.
Therefore, industrial IoT vendors need to build a clear positioning on industry and segments and develop industry expertise to understand and cooperate with customers. A general platform can only solve the basic problems, only to be industry-focused can an IIoT vendors solve the pain points for enterprises and win more business opportunities.
6.Moving to the cloud or not?
Recently, Siemens announced the release of MindSphere on private cloud to meet the strict regulatory compliance and data privacy needs in the large and medium-sized enterprises. IBM also launched Cloud Paks with an open source architecture and multicloud management capabilities. Actually manufacturing enterprises don't have to move to the cloud immediately when equipment connectivity in workshop is the only issue. Only if they need to handle things like marketing, recruitment, supply chain collaboration, e-commerce, high performance computing, and subscription-based or SaaS-based tool software, may they start to think about moving to cloud. In fact, many industrial IoT applications are still deployed internally.
As to whether to use Passive Optical Network (PON), industrial wireless network, or 5G technology, or a combination, enterprises will make informed decisions based on their actual needs. 5G technology provides feasible solutions in smart mining, remote control of construction machinery, robot patrol inspection, and AGV scheduling, but enterprises will still fully consider cost, effect, safety and energy consumption and other factors.
7. Digital twin and digital thread is the future
In recent years, BIM of engineering and construction industry and digital delivery of engineering design in process industry have become hot topics. Digital twin models can be built for complex products like equipment, production lines, workshops, factories, buildings, bridges, roads, and even cities.BIM and digital delivery platform, together with sensor data on IIoT platform, AR or VR enabled visibility, as well as AI and simulation optimization technologies make up the digital twin applications in engineering and construction industryand process industry. For the complex equipment, industrial IoT can be further extended to digital twin applications. With the help of digital twin model and simulation optimization, equipment manufacturers can improve its product operation performance and eliminate potential risks via fault early warning.

Source: Siemens
Factories can also leverage industrial IoT in digital twin applications to get timely and accurate insights of the factory status and improve its operation performance. In addition, digital thread can be used across full product lifecycle from engineering and production to in-service and retire to build data consistency and improve quality and efficiency of operation and maintenance services.
The extension from industrial IoT applications to digital twin and digital thread shows the value ofindustrial connectivity, and is the future trend.
Conclusion
In a nutshell, the hype has become a history. The overstated functions not only make no contribution to the adoption but also is a waste of resources and results in confusion and misunderstandings in enterprises. In the age of industrial IoT today, vendors shouldkeep sober-minded and be both objective and practical. They need to develop a clear market positioning and more industrial APPs to boost adoption and build a sustainable business model.