ABAQUS is a well known CAE company with powerful non-linear analysis solution. In October, 2005, I interviewed Mark at his office in the headquarter of ABAQUS, which is beautiful historical mansion locating at Providence, RI, USA.
Pei Huang:I'm very interested in your logo. The meaning of your company and the logo is just the Chinese traditional calculator. Are there any relationship between your business and Chinese abacus?
Mark: ABAQUS is a computationally intensive application, and that is why this ancient Chinese logo was picked. In fact, our former logo was a true abacus. The current logo is not quite a complete abacus, just a portion of an abacus, because we have been concerned about the marketing communication aspect ratios and things like this. We wanted to name the company ABACUS when the company was started. But that name was already trademarked. So we made the "C" to "Q", and "Q" stands for "Quality". But our name certainly has the origin of Chinese computing device.
Pei: Please briefly recall the history of ABAQUS and yourself.
Mark: The company was founded in 1978, by David Hibbitt, Bengt Karlsson and Paul Sorenson, the company was called HKS for many years. We only changed the name from HKS to Abaqus about 3 years ago. The founders retired beginning 4 years ago when I started, but they had strong confidence in the company's future, would not ready to sell the company, and wanted to give me and the management team the opportunity to take the company to the next level. We focused on doing so in the last four and half years, and of course early in this year we announced the fact that we have been acquired and the fact the transaction is now closed, we are now formally a part of Dassault Systèmes.
The company history is one of building software and delivering services for the advanced finite element analyst. That was the basis which the company was formed. A lot of early applications for ABAQUS were centered with the most complex problems at that time. A lot of the early customers were out of the nuclear industries when you can make sure that your power plant is able to stand earthquakes and alike. But as the company progress, the application of ABAQUS became quite broad. ABAQUS moved into large time-dependant analysis or explicit analysis in addition to the more standard implicit analysis that it had originally focused on.
The company eventually developed its own interactive pre and post processor, we spent about ten years developing the product for Catia V5 market. That's part of the reason why we built strong relationship with Dassault Systèmes. That's the brief history of our company.
I spent almost entire my career at SDRC. I started at SDRC full time in 1980. I started with a master degree in mechanical engineering from University of Cincinnati. I was very involved with the system dynamic analysis product of SDRC, but quickly moved into leadership management roles centered around taking the discrete set of applications of SDRC and integrating them into a common architecture that eventually became known as I-DEAS, which was originally called I-DEAS Master Series. My role was to ensure that it worked well from integration point of view, that it worked on the engineering workstations that it took the advantage of the 3D graphics card, graphic devices and hardware, etc. I did that for many years, I was a vice president in the product development organization for many years.
Then, in 1995, I left that organization to head up SDRC's relationship with Ford Motor Company. SDRC won Ford business in 1995 and my role was to manage the sales and services functions that were related for Ford Company. I did that for almost 3 years from 1995 to 1997.
In 1997 I moved back to SDRC headquarters and took the top job in product development and product management organization, and continue with that job until I left SDRC.
I started here in ABAQUS in May 2001 to take over from the founding CEO. I am only the second CEO that ABAQUS has had. The founding CEO, David Hibbitt, retired 30 days after I started, and the other founders retired shortly there after. I had fabulous four and half years running this company. It's a great company that I tend to work for. We brought in a few new people. We take a good advantage job of far larger number of people over here, and today we have been a very successful over hundred million dollars company.
Pei: What are the main features and advantages of ABAQUS using in manufacturing, compared with other CAE solutions?
Mark: ABAQUS is traditionally been known as a nonlinear finite element analysis software package, and that makes itself different from Nastran, for example. Nonlinear finite analysis is more and more useful because the linear approximations are no longer valid, for example, when the materials being used are sufficiently complex. For example, a composite material could not traditionally be analyzed using a linear finite element analysis software package. Anything that has time-dependant associated with it, anything that has more than small displacements associated with it, is not a candidate for linear analysis. Years ago, linear analysis was used, while nonlinear analysis was more relevant or appropriate because the computing devices at that time were not powerful enough, and because the nonlinear analysis software packages were not sufficiently robust.
That of course all changed with computing devices becoming more powerful, and products like ABAQUS becoming far more complete, and today we see far greater uses of products like ABAQUS. They can do both linear and nonlinear analysis in the same software package, the same architecture, and we can do many different types of nonlinear analysis, very large time-dependant analysis, to smaller time-dependant analysis, with many different types of materials, to satisfy the needs of how state of arts manufacturing companies are trying to design their products.
There are couple of examples from industries are that some of the larger users of finite element analysis. The aerospace industry is a very large user of finite element analysis. The aerospace industry is focused on composite materials. The new Boeing 787 is going to be entirely composite materials based aircraft. It's a product like ABAQUS that can serve the needs of understanding how that product will perform the durability with various subsystems. In automotive, when a four vehicle's durability analysis is being done, it's impossible to have sufficiently accurate results using linear approximation. The quality requirements, the requirements to be put on the various subsystems in the automobile, such as sustention and so forth, all required nonlinear analysis. A crash, happening with very large time-dependant, large displacement and advanced material property is highly nonlinear calculation. Leaner analysis was never used for that application. Some niche codes specifically for crash have been used, but now ABAQUS solve the problems in the context in general propose finite element package. So, ABAQUS could do linear and nonlinear and analysis within same product.
Pei: Please introduce several typical cases of ABAQUS using in manufacturing.
Mark: We have many good examples. Almost every leading tire company, either use ABAQUS or use in-house code. ABAQUS is a dominant player in this market. Almost all the leading medical device manufacturer which producing stent, use ABAQUS to simulate the expansion of stent in the artery. ABAQUS is also a predominant solution provider of nonlinear analysis of human bones, failure of pre-stressed concrete vessels, construction, rapid drop down, and earthquakes simulation. Drop test in another application where most of the leading electronics customers are using ABAQUS to simulate the durability of cell phones and other electronics devices when they fall from the pocket to the floor to make sure that they don't crack and the electronics inside are sufficiently protected. You can see many companies using ABAQUS exclusively to meet their requirements.
Pei: In the past, CAE was very difficult to use and almost just for Ph.D. Is that situation changing today?
Mark: Yes, I think for a while now CAE has not been exclusively a tool for PHD. I think that the PLM vendors did a lot to promote the use of finite element analysis for less skilled engineers, engineers that have designed oriented responsibilities. But in so doing, they provided very simplified capability, typically only linear analysis, and even a very simplified version. So they accomplish one thing. They put the basic technology in the hands of less skilled engineers. But they are not able to meet the more sophisticated capability needs of leading manufacturing companies. I think that is our opportunity, and we will get key benefit from our new ownership with Dassault Systèmes, a leading PLM company. They now have a very sophisticated, leading technological finite element analysis package.
Our challenge is to bring that technology to market with CAAV5 architecture, and let the less skilled engineers can use it. We are going through that path integrating ABAQUS with CATIA V5 product. After the new ownership, this path has been greatly accelerated.
Pei: Do all the customers of ABAQUS come from giant companies, or you also have SME customers?
Mark: Our customers tend to be medium and large types of companies and don't tend to be smaller companies.
Pei: You have 17 PH. D in your R&D department. What's the reason for you need a lot of PH. D?
Mark: We have even a larger number in the company overall to support our software too. The reason we have so many advanced educated engineers is because this technology requires a pretty significant education. We don't want to limit the use of the software, of course, to the PH. Ds. But to develop the software, it needs to be accurate, reliable and robust. It requires a master's degree or above for some of the key analysis capability. Most people just aren't able to learn the technology at the undergraduate level. It is hard to teach the undergraduate level engineers what they need to know all these advanced technologies.
Pei: What types of benefit ABAQUS has got after joining Dassault systèmes?
Mark: One of the benefits is now we have opportunity for our technology to make an impact in the areas that could not expect as an independent company. Another benefit from being part of Dassault Systèmes is the enhancement of resources. A large company like Dassault Systèmes, has the opportunity to provide more resources to encourage more rapid evolution with our software. We can certainly consider some larger acquisition of technology or perhaps even companies that we could not be able to consider as a small private hold company.
Pei: Please introduce the functions and features of SIMULIA.
Mark: SIMULIA is the vision for our architecture. The vision for how applications like ABAQUS will be able to come together and achieve a unification to deliver a broad sweep on general purpose scientific computing applications, to companies inside mechanical product development and the companies that are even outside mechanical applications.
SIMULIA will attract proprietary in-house scientific applications. SIMULIA will expend the penetration of simulation applications into non-traditional markets. ABAQUS will continue to progress, advance, and address more and more applications. But being position as part of SIMULIA is a statement to the market that what we will do will beyond ABAQUS. So I will be the CEO of SIMULIA, and be responsible for what comes next, what comes beyond ABAQUS. SIMULIA includes ABAQUS, but it is not only ABAQUS. It will be a platform that will attract other key applications as well as attract third party developers and in-house proprietary applications to come together into a unified scientific computing environment.
Pei: Please analyze the status and developing trend of global CAE market.
Mark: Globally, the CAE market over the last several years is recognized as a part of PLM, which is growing at more rapid rate than other parts of PLM for good reason. It is used as competitive differentiator for most manufacturing companies. This is a market of very competitive, very cost conscious, very quality oriented and being able to accurately simulate the performance of mechanical products early in the design process, before a lot of money is spent on manufacturing, before the products are released to the market and problems found after release. The word "simulation" can play is far better understood now than it was several years ago. We would like to take a little bit credit to that of ABAQUS, because it is product like ABAQUS that highlight the fact that you can now very much rely on the simulation results to make decisions based on those results. So globally speaking, we see the market for CAE generally, and our product in particular, is going to be very robust. We have been growing at a rate of 17~18% over the last several years.
So other CAE vendors, such as ANSYS, are also growing. But their growing is partially results to their acquisitions, while our growth has been primary organic and exclusively organic. We believe that we grow much faster than other CAE vendors. Some CAE vendors acquired many products but are not well integrated with each other. I believe that they are probably going through a process right now to determine what they focus on and what they don't focus on as the going forward bases.
Within the market we direct compete, the other important player is LSTC that makes a product called LS-DYNA, used for crash simulation and for large time-dependant analysis. It competes with our product called ABAQUS/Explicit. Other companies that are also playing important roles that we don't necessarily compete with, for companies like FLUENT, CD Adapco, those two companies are players in the computational fluent dynamics market. LMS, based in Belgium is another important CAE player.
Pei: In your view, what's the difference between Chinese and US CAE market?
Mark: The Chinese CAE market is, at least several years behind the US, European and Japanese markets in making use of CAE technology. China is producing highly educated engineers from the university who know how to make use of this technology. But most of the Chinese companies are not able to make use of CAE technology as a part of their new product developing process. It's starting to change, and absolutely will change. When you see most of the changes so far, it is some of the western companies that have located in China. But we started to see some changes in the Chinese companies themselves as well. ABAQUS, for that reason, has a late start in China compared to MSC and ANSYS, but I think that it is just on time, because the market is only now coming to appreciate the role of CAE products can play as a part of mainstream of their product development processes.
Pei: How does ABAQUS progress in China?
Mark: We had a representative in China for a long time, this is a company called ASES at the extension of Tsinghua University. For many years, our independent representative, Professor Wang, at Tsinghua University, was one of our representatives in China. We opened our own office in 2002, and we have our own employees there.
We have been growing at very healthy growth rate from small starting point in China. So we still have a lot of work to do ahead of this, but the sign is very encouraging. We are almost doubling our business every year.
As for our customers, the western companies that locate in China tend to be in consumer product, and a little bit in automotive industries. The larger amount of our business, of course, the native Chinese customers, tend to be in industrial machinery, aerospace, and consumer product, earthquake simulation, a little bit automotive, with broad uses.
Pei: Could you describe your Chinese strategy?
Mark: Our Chinese strategy is to become a more fundamental part of how product could be developed in China by Chinese customers, and of course to be an extension of western companies that do business in China when they use ABAQUS elsewhere to make sure they use ABAQUS in China. And we intend to do that, by bringing ABAQUS technology to workflows that can benefit from that technology and by encouraging Chinese customers working with them closely from a consulting point of view, to be able to modify their workflows become more competitive, and to develop more robust and higher quality product by making simulation in more fundamental part of design process. That's how we will expand our business in China. We are very prepared and are patient. We alone can't change the way Chinese manufacturing companies do their product development. We can make a difference, but we can't be driving force behind those changes. It is going be the competitive markets in which they operate that will be the driving force. We want to make sure that we are there ready prepared to response as those larger forces take place.
We are very involved with the research functions of many Chinese universities. We are not as far long as our competitors are in integrating ABAQUS into curriculum that been used in many Chinese universities. But if you go to people are doing research at Tsinghua University and Shanghai Jiaotong University, we are very active in those universities. We are working hard now to catch up with getting ABAQUS integrated in the curriculum which is also an important step. But we see that the engineers coming out of those universities who have CAE abilities are warmly welcome as Chinese customers want to become more competitive by new product developing.
Pei: Are you going to build a simulation data management platform?
Mark: ABAQUS, as an independent company, is not going to develop such kind of tool. We are going to make use of tools that other companies offer. Now as a part of Dassault Systèmes, we have the opportunity to provide more complete CAE data management capability.
Pei: How could ABAQUS help Chinese manufacturers improve their innovation ability?
Mark: As Chinese manufacturing change from "made in China" to "develop in China" and to "innovated in China", the requirements for products like ABAQUS will become self-evident, will become obvious. What we can do is to make sure that our customers are sufficiently well based in China, not just based in Beijing and Shanghai, but all over the country. We will be well prepared to help support, consult, and assist Chinese customers to be able to take advantage of this technology to develop innovated products.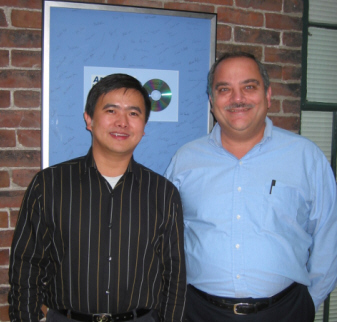 Mark Goldstein and Pei Huang