Foreign suppliers dominate chip market
China's semiconductor use has hit a record high and accounts for more than half of the global market, but the country is overly dependent on foreign suppliers for relevant products, according to a PricewaterhouseCoopers report issued on Thursday.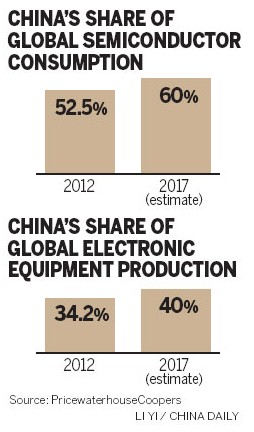 With an 8.7 percent growth in 2012, China's semiconductor use was 52.5 percent of the total worldwide, said a PwC report titled China's Impact on the Semiconductor Industry - 2013 Update. Semiconductors act as an engine now driving an increasing amount of the technology in people's lives.
The growth in Chinese semiconductor use is a remarkable contrast to the global market for semiconductors, which experienced an overall decline of 3 percent in 2012, the report said.
China is expected to continue its domination of semiconductor purchasing in the foreseeable future with its market share possibly reaching 60 percent by 2017, Raman Chitkara, PwC's global technology and semiconductor leader, said in an interview with China Daily.
"One of the major reasons why China has grown so big in semiconductor consumption is that the country is rising to become the world's capital of electronic manufacturing," Chitkara said. In addition, the semiconductor content in electronic device production in China is higher than in the rest of the world, he added.
China now accounts for almost 90 percent of global PC production, more than half of television manufacturing and more than three-quarters of mobile phone and digital camera production. "These items tend to have a higher semiconductor content," Chitkara said.
However, China still seems weak in terms of semiconductor production. There are no billionaires who made their money in the sector in China.
PwC's report said China's semiconductor use continued to outpace its semiconductor production, with the gap standing at $101.6 billion in 2012.
Among the top 30 suppliers of semiconductors to China, the list does not contain a single Chinese company. Almost all the leading players are influential multinational corporations, including Intel Corp, Qualcomm Inc and Samsung Electronics Co Ltd.
"Semiconductor manufacturing is an extremely complex process. Although China is growing a bigger footprint in that field, the country is still in its infancy in the industry. It takes time for Chinese semiconductor companies to catch up and establish themselves," he said.
In the foreseeable future, multinational corporations will be the principal suppliers of semiconductors to the Chinese semiconductor consumption, Chitkara estimated.
Gao Jianbin, PwC China's technology leader, said China has continually strengthened its integrated circuit design capabilities since 2000. "We anticipate key Chinese players, supported by ambitious government incentive plans and venture capital investment, to emerge to capitalize on the untapped market potential," Gao wrote in the report.
China's share of worldwide electronic equipment production increased by 2 percentage points to 34.2 percent in 2012 and is expected to increase to more than 40 percent by 2017.
There are clear signals that China's semiconductor production will take off, Chitkara continued. During the period between 2010 and 2012, there were 73 semiconductor initial public offerings in the world, with two in every three being Chinese. "That's very impressive data and it is a clear indicator of the future of the semiconductor industry in China," he said.
Semiconductor consumption in China grew in the last 10 years at a compound annual growth rate of 23 percent, while the world's average was 7 percent during the same period.