Evolving standards in telecommunications
The number of the world's commercial Time-Division Long-Term Evolution 4G networks is very likely to catch up with those of commercial Frequency-Division Duplex Long-Term Evolution networks in three to five years, according to the president of Nokia Siemens Networks China.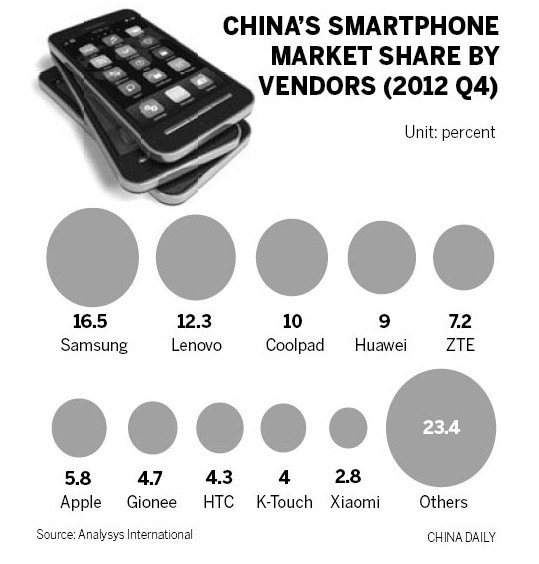 Technologies are expected to link up, says Nokia Siemens China senior executive
Building a converged LTE 4G network, which supports both TD-LTE and FDD LTE telecommunication standards, has won a greater popularity among global telecom operators, said Markus Borchert.
"The question is not whether operators will choose TD-LTE networks or FDD LTE networks, but to consider which one first," Borchert said in an interview with China Daily during the 2013 Mobile World Congress held in Spain last month.
For carriers who have started FDD LTE projects, many of them are also considering deploying TD-LTE networks, Borchert added. "In the medium term, the number of TD-LTE commercial networks will draw near to that of FDD LTE networks. It (the pace) could be faster than people imagine."
TD-LTE and FDD LTE are two forms of LTE 4G mobile standard. Chinese companies, especially the world's biggest telecom carrier - China Mobile Ltd - were the major forces to develop TD-LTE technology and have actively promoted it to become a global standard.
However, the development of TD-LTE has lagged a long way behind FDD LTE technology. The latter has witnessed widespread adoption in recent years from carriers in the United States, Japan, South Korea and some European countries.
According to the Global mobile Suppliers Association (GSA), as of January 2013, 145 commercial LTE networks had been launched in 66 countries. Among them, a mere 14 were TD-LTE networks.
"The TD-LTE technology needs to build up its eco-system, which means having chipsets, a rich family of devices and diversified applications," Borchert said.
"But we are very confident, based on the progress made in the past year. The TD-LTE eco-system is maturing and is clearly converging with FDD LTE," he added.
Because China Mobile is going to reinforce its efforts in constructing TD-LTE networks in China this year, it will act as a great driver to boost the global industry.
"Obviously it (China Mobile's 4G project) is a significant undertaking and is probably one of the largest LTE tenders in the industry this year," Borchert said.
China's 4G rollout will certainly have a big impact on Nokia Siemens Networks' performance, he said.
Nokia Siemens Networks was the world's second largest LTE equipment vendor by revenue in the fourth quarter last year, according to market research company Dell'Oro. Ericsson topped the list by acquiring $761 million of the LTE market, while Nokia Siemens Networks received $451 million during the same period.
"The year 2013 is very important because eyes are turning to China and China Mobile's TD-LTE deployment," Borchert said.
For Nokia Siemens Networks, grabbing a good share of the Chinese telecoms market is vital for the company to continue its recovery, analysts said. At the end of 2011, Nokia Siemens Networks undertook a restructuring which included laying off 17,000 staff and the sale of non-core assets.
The restructuring started to pay off last year with Nokia Siemens Networks reporting positive financial figures and announcing big contracts with major telecoms operators.
Borchert said Nokia Siemens Networks has put almost all the company's TD-LTE resources, from research and development and manufacturing to sales, in the Chinese market. The company has about 9,000 employees in China, more than its two home countries, Finland and Germany, combined.
"All the TD-LTE related innovation is coming from China," he said. That's also underscored Nokia Siemens Networks' commitment and investment in China, and especially for TD-LTE, he added.
Nokia Siemens was the first foreign vendor of telecoms equipment to gain approval from the Chinese authorities to participate in the country's wide-ranging trials of TD-LTE starting from 2011. It sells equipment and cooperates with China Mobile in Hangzhou, one of the first batch trial cities for TD-LTE technology in China.