China Mainstream PLM market up 22.43% in 2011
On April 20th, the 2012 PLM Market and Industry Forum (China) was successfully held in Shanghai Marriott Hotel Luwan together by leading PLM research institute CIMdata and Chinese manufacturing IT application portal e-works. The 2012 China PLM Report was jointly finished by CIMdata and e-works Research.
The founder of e-works, Dr. Pei Huang introduced the research result of 2011-2012 China PLM Report in detail, including: the developing trend of Chinese manufacturing, the main trend and highlights in China PLM market, leading PLM solution suppliers, investment of PLM software and services, PLM application, and forecast of future PLM development.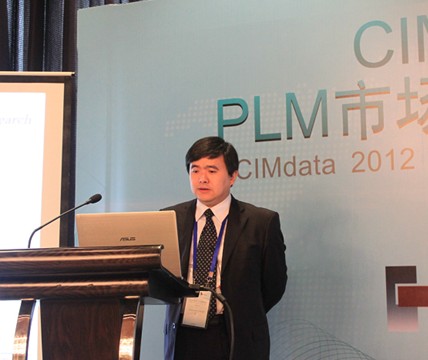 Dr. Pei Huang, CEO of e-works

According to report, in 2011, the China Mainstream PLM market achieved broad-based growth (except for the 2D CAD market segment) and grew 22.43% from $523.5 million in 2010 to $640.9 million in 2011. The global Mainstream PLM market grew 12.8% to $18.7 billion. The share of China Mainstream PLM market in the global market was increased to 3.43% in 2011 from 3.21% in 2010.


Figure 1 Growth of China Mainstream PLM Market for 2010 through 2016

According to CIMdata's definition on PLM market: Mainstream PLM includes the MCAD, S&A, cPDm , NC, CAM, and Digital Manufacturing. The associated work in-depth analyzes the PLM application trends and highlights, leading suppliers, investment of PLM software and services, PLM application in different industries, and forecast of future PLM development in China.
In the near future, China will continue to maintain a steady and fast economic growth. With the releasing of Industry Transformation and Upgrading Plan 2011-2015, China will usher in a new wave of transformation. Therefore, all industries will continue to invest PLM technology and solution. According to forecast, in the next five years (2012-2016), the CAGR of China Mainstream PLM market will exceed 16%.


Figure2 Forecast CAGR of China PLM Market Sectors 2012 through 2016

Mr. Bilello, the President of CIMdata said, "more and more Chinese enterprises focus on PLM application, hoping to improve innovation ability, while more and more international leading PLM suppliers and consulting firms start to give more concern on Chinese market and Chinese enterprises' demand. As one of the world famous PLM research institute, CIMdata's 2012 PLM Market and Industry Forum come to China can also prove that."

Mr. Bilello, President of CIMdata

Dr. Huang believes that, "although China Mainstream PLM market grows strongly, it is still an emerging market and with great potential. On PLM application, Chinese enterprises are still in an early stage and the value requires joint efforts of research institutes, suppliers, implementers, consulters, universities, and especially manufacturers. Besides, the local suppliers should grasp the good opportunity to realize fast development."

2012 China PLM Report is the third successive year jointly completing the China PLM Report. It has a great influence in the industry. About the detailed information of 2012 China PLM Report please call: 027-87592219.

【About CIMdata】CIMdata is dedicated to maximizing an enterprise's ability to design and deliver innovative products and services through the application of PLM. Since its founding in 1983, CIMdata has delivered world-class knowledge, expertise, and best-practice methods on PLM solution. In May 2011, CIMdata acquired CPDA, who is dedicated to technology and business process research through PLM collaborative project research.
【About e-works Research】e-works Research is the most influential independent research institute focusing on China manufacturing information technology. Since its foundation in 2002, e-works Research has been committed to do market, technology and application research in ERP, PLM, IT infrastructure in manufacturing. We periodically publish professional report concerning PLM, ERP, MES, CAE, information security, investment and offer consulting services such as market research, product evaluation, case writing, white paper planning.