Shanghai Automobile handles rapid growth with integrated LANSA ERP package
LANSA was and still is the only development tool which is seriously committed to supporting DBCS.
The Shanghai Automobile Industry Group is the largest sales and distribution company in China with annual revenues exceeding $ 36 billion US. Shanghai Automobile Industry Sales Corp, part of the Shanghai Automobile Industry Group, has used CASE/ERP, a 100% LANSA-based ERP solution since 1993. CASE/ERP has managed daily business and supported rapid growth of up to 83% per year. CASE/ERP, a Management Information System designed for the Greater China market, includes complete systems for personnel, inventory, financial affairs, manufacturing, supply and distribution. Designed for easy user customization, CASE/ERP gives IT departments a development shortcut to meet user needs. Many leading Chinese enterprises, including the China Petro-Chemical Corporation, the Liaoyang Automobile Spring Factory and many foreign and joint venture companies in China use CASE/ERP and other LANSA-based solutions.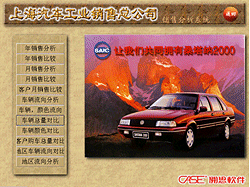 The Challenge
The Solution
The System
The Benefits
The Future
Company & System Information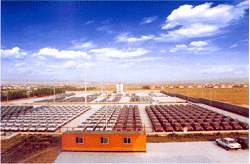 "The ability of the AS/400 and LANSA to support our extraordinary growth has been a key benefit to our company."
The Challenge
Mr. Hou Pei Ming, Shanghai Automobile IT Manager, explains "Starting from the early nineties up to now, our business has been rapidly expanding. In 1993 our sales grew 83% compared with the year before and 1997 sales has more than doubled since 1993. Our PC LAN system, which we used up to 1992, could not sustain the company's growth. "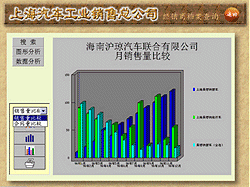 "Customer service started to suffer, because we didn't have an adequate overview of the spare parts in our branches. In addition, business figures did not become available until well after month's end closing. Our PC LAN system, made up of poorly integrated modules, could not process business transactions fast enough and both system performance and functionality became inadequate."
"We started to look around for a more integrated, complete and scalable solution. We needed an Enterprise Resource Planning system that would suit our local accounting and business requirements and would support our rapid growth."
The Solution
"In 1993 we evaluated CASE/ERP an ERP solutions designed for the greater China market. CASE/ERP included modules for inventory, manufacturing, sales, distribution, financial affairs and personnel and met our business criteria."
"What we specifically liked from an IT point of view," continues Mr. Hou "was the system's easy customization. The system is completely written in LANSA, an advanced application development tool. LANSA was and still is the only development tool which is seriously committed to supporting DBCS (double byte character set), a facility which allows development and generation of applications in the Simplified Chinese character interface."
"We implemented the system in 1993 on an AS/400 model E45. As business doubled over the years, we moved to a model 300 in 1996 and to a RISC model 640 this year, without any disruption to operations or any change to the underlying software (other than to recompile for RISC). This high scalability of both the hardware and the software to support our extraordinary growth has been a key benefit to our company."
"Initially our CASE/ERP implementation was green screen only. In 1994 LANSA was the first to offer smart client/server middleware in PR China, to integrate PC development tools running under Chinese Windows using DBCS data interactively on the AS/400. CASE/ERP was quickly modernized with these LANSA client/server extensions. Now LANSA is the first to offer web solutions on the AS/400 and? CASE/ERP has benefited from this web technology as well."
The System
Mr. Hou explains "We use the integrated modules for all aspects of our daily operations, including inventory, order processing, sales planning, purchasing, general ledger, accounts payable & receivable, business analysis and after sales service & maintenance. Our sister company, the Shanghai Automobile Industry Group Financial Corp, also uses the credit loans, savings and foreign currency modules."
"In additional to our standard daily reports, we also use the Executive Information System of CASE/ERP. These modules are highly graphical and developed in Visual Basic and LANSA Open. LANSA Open accesses data marts which reside on the AS/400."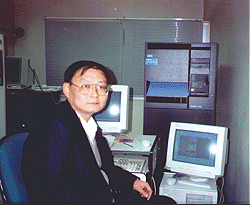 The Benefits
Mr. Hu Shun Hua, Vice President and CIO of Shanghai Automobile, comments, "After our CASE/ERP implementation, the business data is more integrated and readily available. Overall the company processes are now more streamlined and many benefits are obtained."
"For example, financial reports and charts on all business areas are now available on the next day. This means that managers can access these reports and analyze business performance including the last day of business, immediately in the morning of the next day. This allows us to take timely decisions and has greatly improved our efficiency."
"Our managers can also query the live data and we are now better in control of our stock position and movements. It hardly ever happens that we run out of stock for parts, while our overall stock levels are still much lower than before," continues Mr. Hu.
"Our customers directly benefit from the system as well. We now use a bar code system to trace each car sold. This barcode system links to the AS/400 system and lets us provide better maintenance service. This system is unique in the China mobile industry."
The Future
Mr. Wu comments "E-business is a hot topic now in China. We have used LANSA for the Web to add a new e-business module onto our CASE/ERP solution. This new e-business module is a significant functional enhancement and many customers have shown interest in it."
Mr. Hu concludes, "The current plan is to extend the system to our national-wide network with more low-end AS/400's dispersed around PR China. We have 50 remote branch offices to connect.
"The combination of a scalable AS/400, with our CASE/ERP solution based on a continuously evolving LANSA development strategy, safeguards the competitiveness of our company now and in the future."