China's Hisense begins export to Britain from its South Africa industrial park
Chinese home appliances giant Hisense's industrial park in South Africa recently dispatched a shipment of refrigerators to the United Kingdom, and are expected to meet British consumers soon. It is the first shipment of products manufactured by Hisense's South Africa facility exported to Europe.
The deal also marks that Hisense's industrial park in South Africa is becoming a global manufacturing base and that its global industrial chain management efficiency has further improved, offsetting the negative impacts of uncertainties brought by the COVID-19 pandemic, said company executives.
Headquartered in Qingdao, East China's Shandong province, Hisense sees South Africa as one of its strategic hubs for global development. It started its first overseas operation there in October 1996, and the industrial park, in the Atlantis Special Economic Zone, was jointly built in 2013 by Hisense and the China-Africa Development Fund, which covers more than 100,000 square meters.
Song Lei, chairman of the CADF, said the industrial park has set an example of how the fund can build a bridge linking the demands of African countries' economic development and Chinese companies' international expansion.
The introduction of Chinese capital, brands, technologies and visions of green development, combined with localized production and management, has helped to increase local employment as well as income, without creating an additional financial burden for the local government, Song said.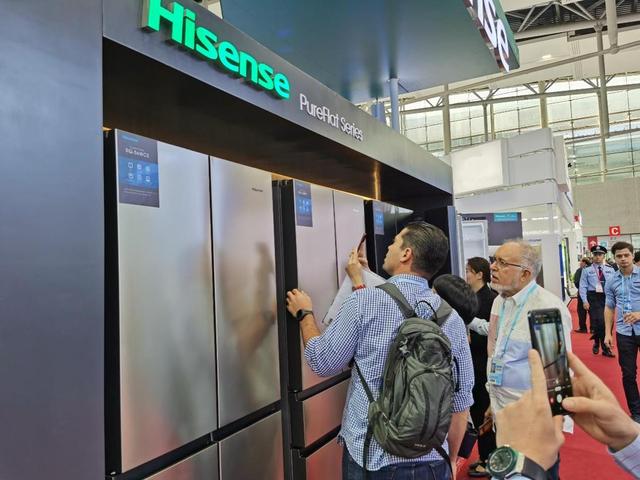 Refreigerators manufactured by Hisense's industrial park in South Africa are expected to meet the British consumers soon. [Photo provided to chinadaily.com.cn]
Hisense's industrial park in South Africa now boasts a production capacity of 10 million TV sets and 550,000 refrigerators a year. The products are market-leading in South Africa, and have been sold to a dozen other African countries including Zambia and Botswana.
The company's contributions to the improvement of local manufacturing capacity, social and economic development, livelihoods of local residents and social stability in South Africa have been highly recognized by the United Nations Office for South-South Cooperation, as the industrial park project was used as a case in a 2020 report by UNOSSC on promoting sustainable development of Africa through South-South investment.
But Europe is also a key market for Hisense, where its revenue grew by 113 percent last year. Up until now, its white goods in the European market have mostly been produced in its plant in Slovenia or exported from China.
The most recent export of Hisense's refrigerators to the UK means huge progress in product quality control from its South African facility, as quality supervision and market approval in Europe are widely known as being stringent.
Hisense has been active in international development over recent years. In 2021, it installed many new air conditioner production lines in Thailand and inaugurated an industrial park for smart appliances in Monterrey, Mexico, the second operation in the country, which targets the North American market and will see its first products rolling off in the second half of this year.