A Siloed Approach to Development is Hampering Powertrain Development in Electric Vehicles
OEMs are struggling to pinpoint where they should best focus their efforts in EV development, and face an uphill struggle to find the needed resources.
Electric vehicle (EV) manufacturers have an almighty challenge ahead of them. They are seeking to compress the development of electric vehicles into a few short years, which is a tall order when we consider it took more than a century for internal combustion engines (ICEs) to be created, developed and refined. With deadlines like the 2030 ban on the sale of new combustion-engine vehicles looming, OEMs are struggling to pinpoint where they should best focus their efforts in EV development, and face an uphill struggle to find the resources to achieve it.
In addition to this, there are a number of key, specific hurdles still to be overcome in EV development. These include, but are not limited to: improving range, reducing cost, developing charging infrastructure, sustainability and ensuring the connectivity and comfort that consumers expect from the electric and increasingly autonomous vehicles of the future. As the backbone of the electric vehicle, the powertrain (comprised of the motor, gearbox and battery) influences every aspect of these challenges. Yet, the delicate balancing act of developing and manufacturing the optimal powertrain is a challenging and high-stakes race against time to bring new models to market.
Powertrain Development Challenges
For OEMs looking to optimize their powertrain, there are four key factors to consider:
Durability – ensuring parts will last.
Efficiency – how much can we get out of the vehicle with the power provided.
NVH (noise, vibration and harshness) – minimizing the noise and shake experienced by the driver.
Architecture – how the parts all fit together.
These four pillars combine to determine the power density of the powertrain, and ultimately the vehicle.
These four pillars are all interconnected, so it is no surprise that a siloed approach to development—for example, by having an NVH department, a durability department and design engineers all working independently—causes problems when all these elements come together at the end. Yet, OEM engineering processes are often rooted in workflows that were intended to produce ICEs, and they will fail to achieve the levels of optimization that is achieved through a holistic approach.
We worked with one OEM which had significant problems with the acoustics and NVH of its EV models, and we found that this was a direct result of its siloed approach to development. Noise reduction is important in EVs because without an engine to disguise it, it is that much more noticeable, and the high frequencies make it unpleasant for the driver. NVH is also a particularly tricky area for OEMs to address because of the tiny excitations involved in creating the noise – just 2-3 microns of excitation in the gear system can result in 70-80 decibels exposure for the passengers. In order to manage this, a system is needed which can understand those microscopic vibrations which create the resulting sound.
For this particular OEM, the NVH challenge was twofold. Firstly, a siloed approach to development of each subsystem had been taken, meaning that the resulting manifesting NVH was only recognized when the different parts of the design came together at the end. At this point, their team was challenged with the task of essentially working backwards to define targets for the different NVH sources. This led to the second part of the problem, which was identifying those sources. This is not uncommon, because in these instances we're dealing with nanoscopic amounts, so if the model isn't right at the beginning, working backwards to find the source of the excitation can be incredibly tricky.
A Holistic Approach
This example is an excellent illustration of why it's best to look at NVH holistically from the start, which is true of all aspects of powertrain development. But achieving this requires a wholesale rearrangement of workflow and collaboration, which is unfamiliar to most OEMs. Returning to the NVH example, this includes, for example, using information from component manufacturers to enhance the accuracy of manufacturing models.
Examining each component's contribution to the noise and vibration inside the motor and gearbox enables us to see the effect of the vibration and sound to a variation of around one micron. In this way, numerous simulations are required to assess the components, but by doing this hard work at the beginning, OEMs can save themselves a huge amount of work—and development delays—later in the process. Further, by examining the NVH effect of components, OEMs can then use this information for quality assessment and to scrutinize their suppliers, which again can save future problems further down the road.
To see examples of this holistic approach to EV development in action, we can look to EV start-ups. Without the legacy departments and processes of their automotive OEM counterparts, start-ups have the benefit of being able to approach their development process as a blank slate. Lucid Motors is a great example of this. The company very effectively established one powertrain team and examined four key areas affecting power density right from the beginning. By doing so, they achieved three times the power density of their competitors. The impact on the overall performance and saleability of their vehicle is obvious, not to mention the time and money saved by pre-empting later challenges by taking a holistic approach.
Parametric and model-based systems engineering technologies such as Romax reduce development time because they facilitate collaboration, and faster frequency-domain analysis allows rapid iteration and design space exploration. It holistically pulls together all the requirements, creating a digital thread throughout, and replacing traditional document-based information exchange. Because data and knowledge are available between different systems, risks are more effectively managed and there is much less chance of a part needing to be redesigned, for example. This has implications not only for improving time to market, but also mitigating any chances of unsafe components and vehicles making it to market.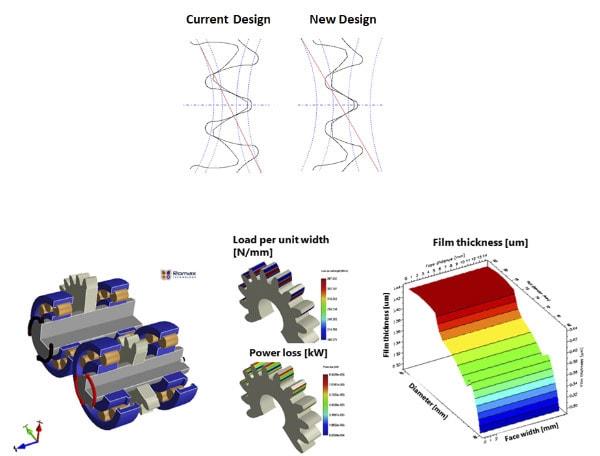 Multiple physics types can be analyzed in parallel to analyze all aspects of the powertrain (for example, lubricant thermal-fluid dynamics, structure and fatigue) and that data is then used to virtually define, design and engineer components for safety and durability. This does not necessarily mean that every aspect of the EV is simulated, as this would take too long. Instead, the resulting design 'Digital Twins' can be used to produce useful insights when there is not enough information to do a complete systems analysis of all the details.
The powertrain is therefore one of the most important aspects of the EV, but also one that brings the most challenges. Many of these can be overcome by taking a holistic approach to its development right at the very start. For many OEMs, this means following the example of start-ups—ripping up the rule book and breaking down the development siloes that are left over from ICE development. Coupled with this new approach, OEMs need access to tools and expertise that they often simply don't have in-house.
As a result, they have to weigh up which parts of design and development they complete themselves and which are quicker, easier and more cost effective to outsource. Some OEMs, for example, prefer to engage a strategic consultant that can advise them on aspects as significant as what electrical motor they need to use and which type of powertrain. Some engage technical expertise to solve specific problems. Others outsource powertrain development entirely. Whatever the balance, they can be sure that a holistic approach to development will save them time, frustration and cost further down the line.
Written by: Detlev Runkel, Senior Business Development Manager – Automotive, Powertrain engineering services team at Hexagon's Manufacturing Intelligence division.