New display panels to boost global TV market
Cutting-edge semiconductor display technologies, including organic light-emitting diodes (OLED) and mini light-emitting diodes (mini LED), are injecting new impetus into the sluggish global television market and bolstering the transformation and upgrading of the traditional home appliance industry, industry insiders said.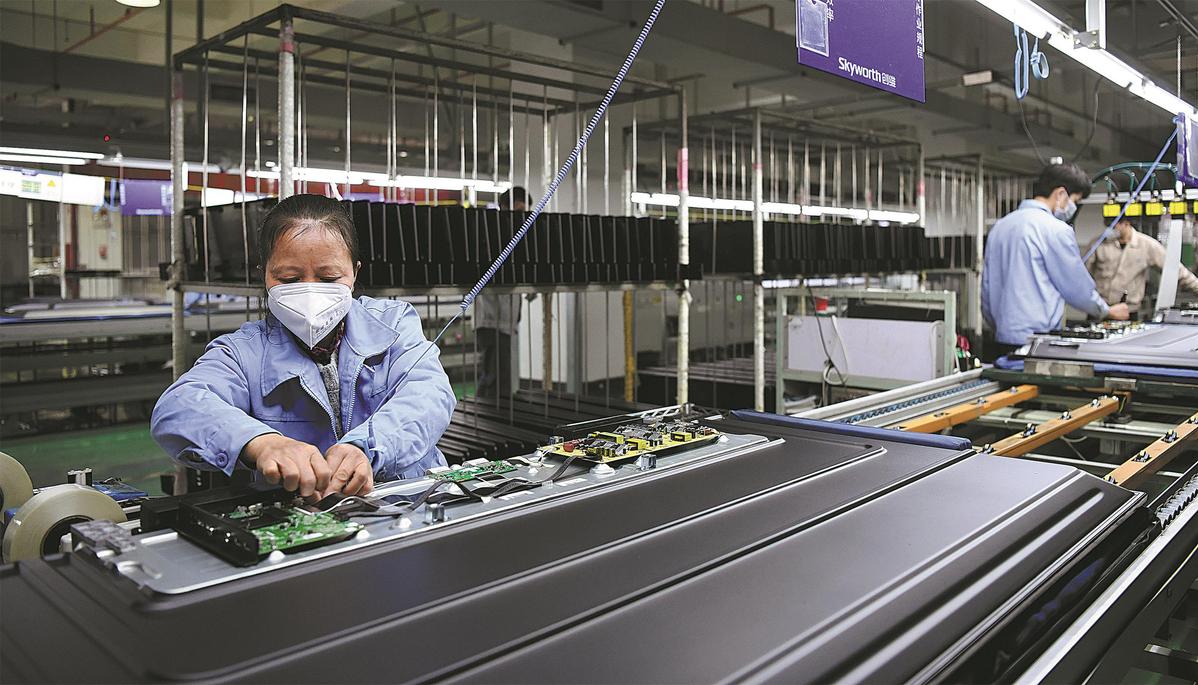 A Skyworth employee works at a production facility in Guangzhou, Guangdong province. DENG HUA/XINHUA

The new technologies could be applied into a wide range of segments, including smartphones, TVs, tablets, wearable devices and vehicle-mounted display screens, they said.
Chinese television manufacturer Skyworth Group recently announced it will invest 6.5 billion yuan ($1 billion) to establish a mini LED display technology industrial park in Wuhan, the capital of Hubei province. It will support mini LED chip manufacturing, backlight packaging and modules, and conduct research and development, production and sales of ultra high-definition display terminals.
Wang Zhiguo, chairman of Shenzhen Skyworth-RGB Electronic Co Ltd, a subsidiary of Skyworth Group, said the company's TV business saw considerable growth in the first half, with sales revenue in the domestic and overseas markets rising by 13.7 percent and 68.4 percent on a yearly basis, respectively.
Skyworth always focuses on the high-end market and continues to promote technological breakthroughs in the TV industry with its self-developed technologies, said Wang, adding sales of its OLED TVs topped the list, accounting for 41.6 of the domestic OLED TV market.
In addition, the Shenzhen, Guangdong province-based company unveiled a series of new OLED and mini LED TV products in September, bringing a new level of high color accuracy and a slimmer and sleeker look for consumers.
Wang said the company will continue to deepen its efforts in OLED and high-end mini LED, catering to the tastes of the young generation, and actively promote the transformation and upgrading of the TV industry.
OLED is a relatively new technology and part of recent display innovations. It has a fast response rate, wide viewing angles, super high-contrast images and richer colors. It is much thinner and can be made flexible, compared with the traditional liquid crystal display (LCD) panel.
Skyworth has been producing OLED TVs in partnership with South Korea's largest panel maker LG Display since 2013. Furthermore, a string of home appliance manufacturers, such as Hisense, Konka, Huawei and Sony, have made forays into the OLED TV market.
TV sales reached 17.81 million units nationwide in the first half, down 14.7 percent compared with the same period last year, while related sales revenue stood at 59.4 billion yuan, an increase of 15.1 percent year-on-year, said a report by market consultancy AVC.
The consultancy noted that sales of OLED TVs in China reached about 101,000 units in the first six months.
Statistics from market research firm Omdia showed that OLED TV shipments worldwide reached 2.47 million units in the first half, more than double the 1.19 million units in the same period last year. It estimated global sales of OLED TVs will be 6.1 million units this year, up 67 percent on a yearly basis.
Mini LEDs are considered LEDs in the millimeter range and based on self-emitting pixels. The technology promises to be brighter and more durable with a higher color range than OLED.
Sun Jian, an analyst from TV department of Beijing-based market researcher Sigmaintell Consulting, said with the maturation of the technology, improvement of yield rates and a decline in production costs, global shipments of mini LED TVs are expected to reach 1.8 million units this year, and the figure will be close to 9 million units by 2025.
Guosheng Securities said mini LEDs have broad application prospects in the field of TVs, laptops, monitors, tablets and vehicle-mounted displays. The annual market scale is estimated to surpass 10 billion yuan.
Liu Fei, an analyst from AVC, said the emergence of new display technologies, such as 8K, OLED, micro/mini LED, quantum dot light-emitting diodes or QLED is expected to provide a big boost to the TV industry.
Intelligent and large-sized TV products that offer interactive scenarios and connect with various smart home devices are increasingly favored by consumers, Liu added.
Liang Zhenpeng, an independent consumer electronics analyst, said at present, the traditional LCD TV market is almost saturated and companies need to seek new growth points in view of the rapid development of high-end intelligent display technologies like OLED and mini LED.
These new technologies have become a new driving force for growth of the TV industry, Liang said, while noting that apart from display panels, more efforts are needed to make breakthroughs in TV chips, display modules, artificial intelligence, operating systems and TV content.