CIMdata Mid-Year Update: Global PLM market growth to be -1.7% in 2020
CIMdata PLM Market and Industry Forum China was successfully held virtually on October 13th, 2020.
With the theme of "Products, Smart Connected", CIMdata PLM Market and Industry Forum China was successfully held virtually on October 13th, 2020. At this mid-year update event, Peter Bilello, CIMdata President and CEO, shared today's market trend and leading trends and provided an update on the evolving PLM economy. Stan Przybylinski, CIMdata Vice President highlighted the forecasts, with some discussion of first half results and market actions and offered some insights into how industry might improve their development and lifecycle management processes to meet these evolving requirements. The meeting was hosted and translated by Dr. Pei Huang, e-works CEO. It was the first time CIMdata, the authoritative global PLM research organization put the FALL PLM Market and Industry Forum Mid-year update event in the annual PLM event.

PLM is a key enabler for enterprises' digital transformation
According to Peter, the push for digital transformation is gaining momentum and some industrial companies are focusing their attention on enabling a model-based enterprise (MBE) that drives towards a true digital transformation. A MBE leverages enterprise data & process management platforms (e.g., Product Innovation Platform) to manage complexity of data and processes that develop, represent, produce, and service the product and. He also shared insights on some key enabling elements of a digital transformation, such as end-to-end connectivity, data & process management, digital thread, digital twin, data governance, and digital skills transformation.
A digital thread is a communication framework that connects data flows, which can be used to produce an integrated and holistic view of an asset's data from physical and virtual systems (i.e., its digital twin) throughout its lifecycle across traditionally siloed functional perspectives. Digital thread is enabled and supported by a robust end-to-end and connected systems model and MBSE processes.
Peter also stressed the value of PLM platform. He said that PLM is a key enabler for enterprises' digital transformation, the backbone for end-to-end collaboration through the lifecycle processes, the platform for integration of external entities into the lifecycle processes, and also one of a large menu of technologies for recombining processes and business entities. Digital transformation requires PLM—people, processes, and technologies. Enabling Digital Transformation requires end-to-end connectivity and lifecycle optimization (C/O); it also requires organizational, cultural, and technological changes. PLM will continue to evolve, therefore industry must recognize the power, and necessity of a fully functional PLM platform.
Global PLM market growth forecasts to be -1.7% in 2020
Stan in his mid-year update market presentation reviewed 2019 PLM market results, COVID-19 impacts on the PLM economy and some market news highlights in 2020.
According to CIMdata, the overall global PLM market grew by 7.7% to US$51.5 billion in 2019, slightly below the forecast (8.9%).
PLM market in 2019 is still active and CIMdata tracked 106 mergers and acquisitions in the past year. Autodesk and PTC had largely completed their license model transition. However it's still a question that whether others will follow. In addition, SI/Reseller/VAR are the most active segment, led by Accenture again. Major PLM players are trying to differentiate, expand reach.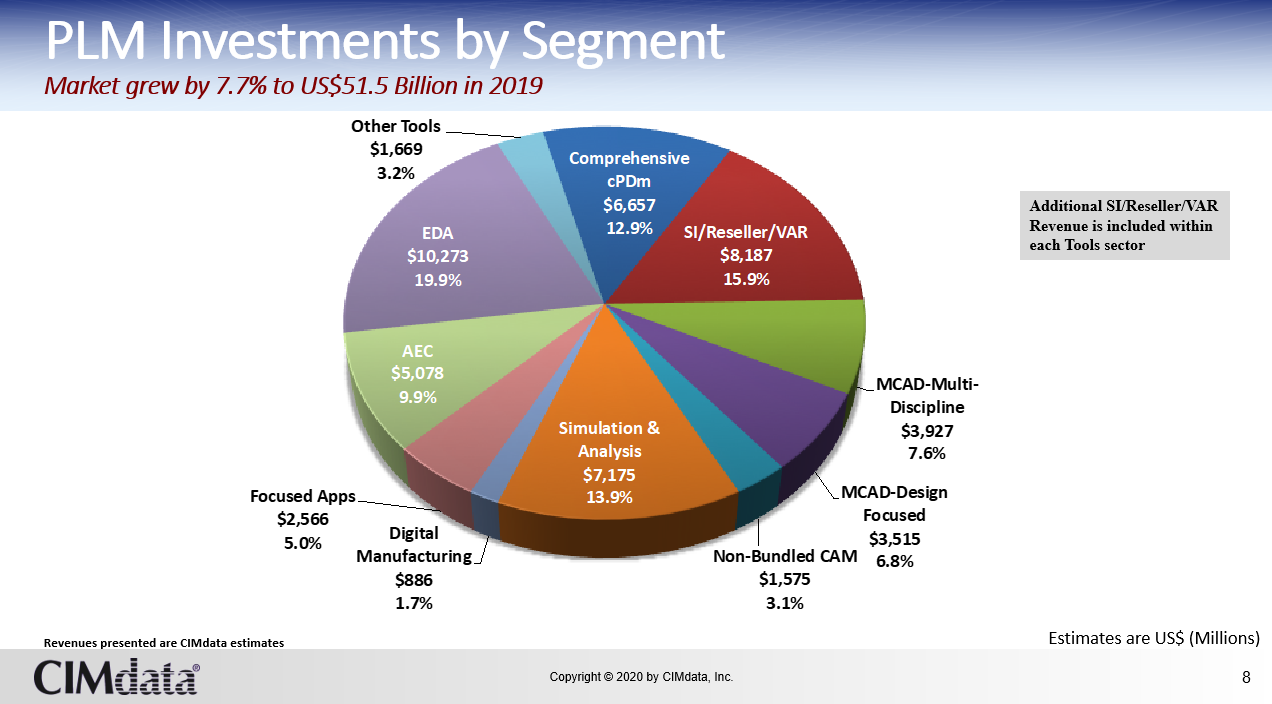 COVID-19's impact on PLM economy will be far reaching.
CIMdata has lowered its forecast for global PLM market growth from 2.4% in March 2020 to a negative 1.7% in June 2020. The 5-year compound annual growth rate (CAGR) is also revised to 5.8%.
The COVID-19 outbreak will also have a profound impact on PLM technology changes. For example, move to subscription provides some help to stop the bleeding; the cloud helps people work anywhere, anytime, can be an upside as the model takes hold in PLM; more solutions bought online. Meanwhile, so far M&A pace has not really slowed. For example, Hexagon was being very active, added Romax Technology, a leader in drivetrain simulation. Koch Industries closed their acquisition of Infor. Rockwell Automation expands collaboration with PTC, buys Kalypso. SAP and Siemens announce an important partnership.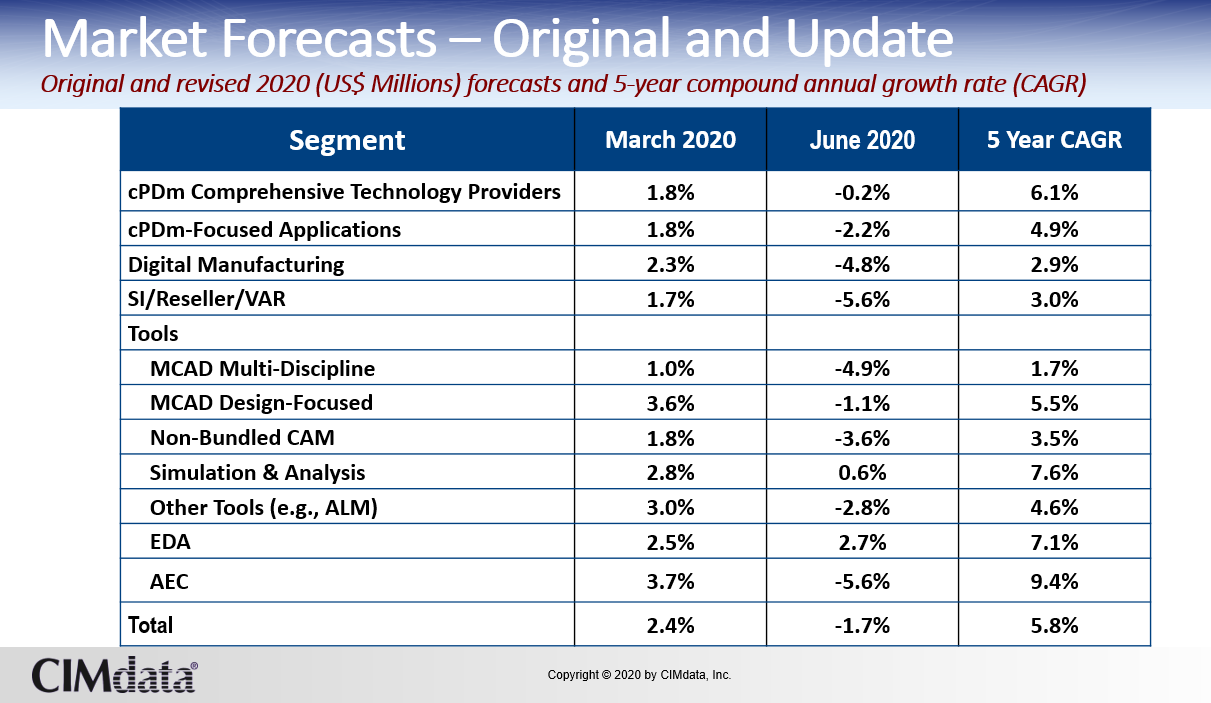 Synching siloed development of smart connected products
Stan also talked about some issues around developing smart connected products. Recent CIMdata research suggests that 81% say smart connected products is important or very important for their business success. That number increases to 96% in 3 years! While some smart, connected products have been around for a few decades, product development at most companies is siloed by mechanical, electrical/electronic, and software. That is to say, there are still gaps in the processes and tools for developing smart connected products.
Further, Stan provided some ideas on how to improve development and lifecycle management processes to close the loop in product development, including xBOM management across the lifecycle, closed-loop product development, agile methodologies & PLM, closing the smart, connected lifecycle loop with IoT.
Stan pointed out that a robust xBOM capability is a core requirement for successful digital transformation in most companies, and especially those with smart, connected products (eBOM<->mBOM is not enough). A digital thread enabled by a robust xBOM process improves the effectiveness of traceability & impact analysis making digital twin actionable. Ensuring structure and BOM data stay under configuration control across the lifecycle is a still critical, core, and time-consuming activity. Companies combining Internet of Things technology with PLM can effectively close the loop in product development and understand product use better. Agile software development approach enables PLM solution deployment to effectively respond to changing needs and requirements and shortens deployment time, increases quality & user satisfaction. The smart, connected lifecycle is changing products, services, businesses, and even the world itself.